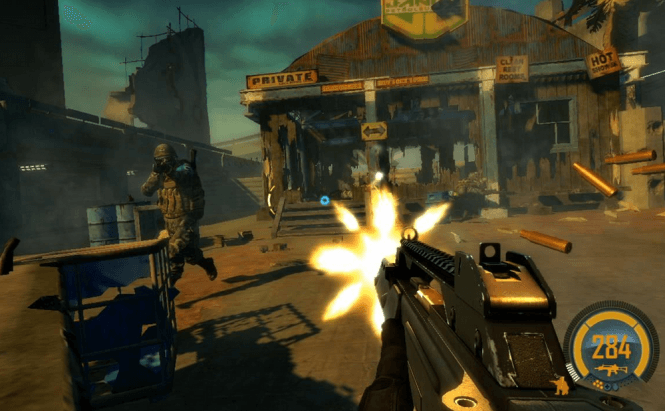 Best FPS games that you can play on PC this year
Though many people believe that shooting games instigate violence, many of us know that they're actually just a fun way to pass the time, hone your reflexes and maybe blow off some steam. If you enjoy shooting bad guys, monsters or other player's characters, here you will find the best first-person shooting games that you can play on your PC in 2016. This selection is based on my personal preferences, so don't be upset if your favorite game hasn't made the cut.
Doom
Let's start things off with the classical Doom. Although Bethesda's reboot changed and improved every available aspect, the game still has the same 1991-Doom feel that we all know and love. The game now has more enemies than ever before, there's a wide array of weapons to choose from and you can't regenerate your health during the game, so you really need to be careful about how many shots you take. As a final incentive, the company has recently launched the first Doom DLC: Unto the Evil.
Doom
Overwatch
Overwatch
Considered by most the best shooting game of the year, Overwatch is truly amazing. The maps look awesome, the graphical details are well-polished and the fact that each character has unique weapons and skills makes things incredibly interesting. The graphics may be lot more cartoonish than what we were used to, but that doesn't mean that they're not beautiful and captivating. As far as my budget is concerned, Overwatch is a bit expensive, but after playing it, I can tell you that it's worth the money.
Deus Ex: Mankind Divided
Deus Ex: Mankind Divided
If you like shooters, then you've surely played at least one of the Deus Ex games. Mankind Divided is the latest game of the franchise and, as far as I'm concerned, also the best one. The action takes you to a time when the humans and Augmented are at war, so you should expect total mayhem. Just like in the previous iterations, first-person shooting experiences are combined with a cool third-person cover system and hand-to-hand combat moves that the stealthier players will love.
Shadow Warrior 2
Shadow Warrior 2
Killing daemons who came from an alternate dimension to invade our planet sounds like a fun activity, right? If so, you will surely love Shadow Warrior 2 where you, a ninja warrior named Lo Wang, have to stop an invasion using a total of over 70 weapons. What I love about Shadow Warrior 2 is that almost everything is randomized, weather, the opponents' positions, etc., so every time you play it like a completely new experience.
Battlefield 1
Battlefield 1
Last on our list is a game that hasn't even been launched yet, but based on the trailers and gameplay footage that I've seen, it's going to be absolutely breathtaking. Battlefield 1's action will take place during the first World War and will feature weapons appropriate to that time period. EA promised an extensive single-player campaign, so I can't wait for October 21st when the game will be officially launched.
Now, when you've seen the best FPS games that you can play on PC this year, you might also want to check out some of our older stories such as: "Everything that happened at this year's E3 Gaming event", "Cheaper is better: money-saving tips for gamers" or "Are video games going to change entertainment?".