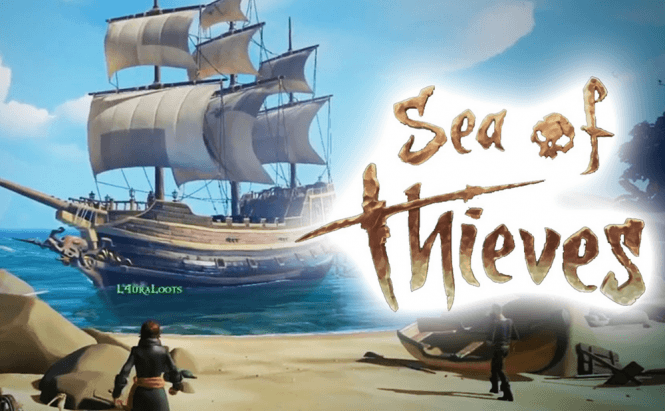 Sea of Thieves lets you live the life of a pirate
It's been a long while since I've seen a good pirate game. There were a couple of decent ones such as Sid Meier's Pirates and Corsairs, but you must be really old (like me) to remember them and newer titles like Pirates of the Caribbean or Blood and Gold failed to live up to my expectations. Thankfully, at this year's E3 conference, I saw a very promising multiplayer game called Sea of Thieves which strives to be the best "pirate simulator" we've seen.
Sea of Thieves is being created by Microsoft and Rare Studios and promises to be one of the best of its kind. The game is still in its early stages, so many things may change by the time it gets out, but at the moment, you are able to take four other mates on your ship and set sail to find glory and riches. However, according to the developer, there will be no limit towards how many people can travel aboard your ship and since the players are in direct control of the sails, anchor, steering wheel, canons, emergency repairs, etc. - that's a good thing. Furthermore, the game looks like it requires a lot of communication since the person whose manning the wheel can't see in front of the ship because of the sails, so he or she will need guidance from another member of the crew.
As you can see in the gameplay video, that's at the end of this article, the graphics look awesome and well thought out, despite the cartoonish style in which the characters and the environment are drawn in. Nevertheless, if I'm being honest, what I liked the most were the little things that you can do such as drinking grog with your buddies and then struggling to walk in a straight line or playing the accordion to inspire your mates while your sailing into battle.
Unfortunately, for those who are as excited as I am about Sea of Thieve, the game doesn't have an official launch date yet, so it will probably be a while until we can get our hands on it. On the plus side, the news I read on the game's official website stated that the company is almost ready to enter the closed beta stages, so things may go further along than we originally hoped for.
Since you love games, you might also want to check out "Everything that happened at this year's E3 Gaming event" or find out what are the "Best Episodic Games" in James' opinion.