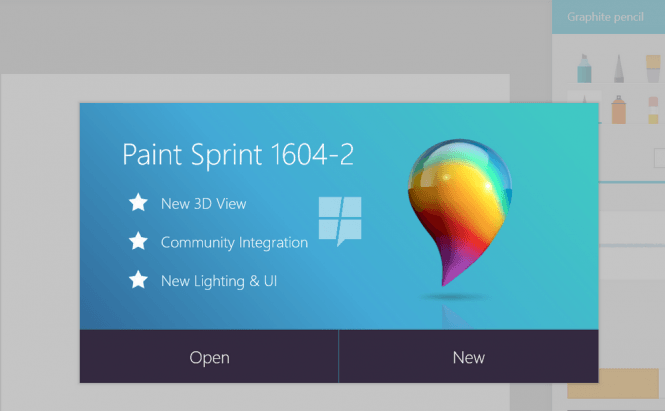 Microsoft Paint may soon get a makeover
According to a report from a publication called MS Power User, Microsoft may be working on a redesigned version of their trademark image editor: MS Paint. This is still just an unconfirmed rumor, so it may turn out to be untrue, but it seems that the company intends to replace Paint with a new Universal app version of it that will fit better into the Windows 10 environment. Currently, it's unclear if the application will be preinstalled or if it will be downloadable from the Windows Store.
Microsoft Paint is one of the oldest applications on the market, being included in every version of the company's operating system ever since 1985 when Windows 1 appeared on the market. However, the tool hasn't been updated since Windows 7, so a redesigned version of it would probably be a good idea. What's even more interesting is that the reported Paint version isn't a simple Centennial conversion, like Wordpad and XPS Viewer became when Microsoft decided to make them Windows Store compatible. Instead, the image editor looks like a completely new tool built from the ground up. Unfortunately, there's no way for me to confirm or deny this rumor, as Microsoft was very quick to cover its tracks, renaming the application indicated by the report into something called Newcastle and making it unavailable for download.
The new MS Paint
From what I've seen in the leaked images, the ribbon bar is no longer present, having been replaced by one designed in the minimalist style of Windows 10. Additionally, the text has been completely removed, so all that you're going to see are icons that lead to different menus and actions. There's also a side bar placed in the right section of the window, which gives you access to the available tools and lets you select the desired colors. All in all, the tool looks pretty good and a bit easier to use than the current build. I'm guessing that this new version of Paint will become available together with the Anniversary Update, but I'll update you with any official information as soon as Microsoft issues any official statements.
In the meantime, if you're interested in solutions for editing and managing your images, you should check out some of our previous stories such as: "5 best web-based photo editors" or "A guide for photo enthusiasts".