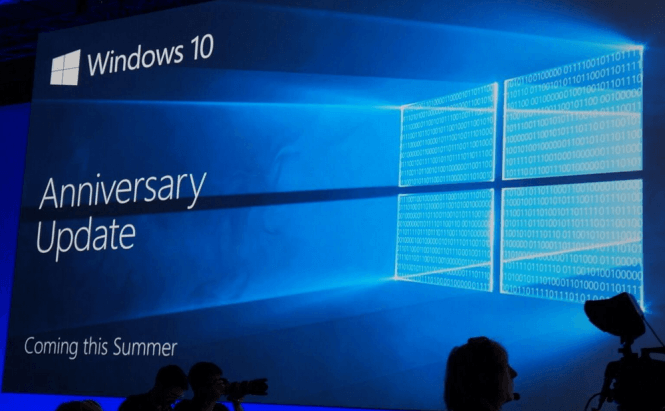 Microsoft takes the lid of the next major Windows update
From now on, we no longer have to call Windows 10's future major upgrade 'Redstone'. At the Build conference which took place yesterday in San Francisco, the company has unveiled the official name: 'Anniversary Update' and a lot of details regarding the upcoming changes that will arrive this summer. It seems that the Windows 10 Anniversary Update will come free of charge and will most likely be obligatory for those who own the Home edition of the operating system.
In case you're curios about the novelties that will hit your PCs, here's a list with the most important changes included in the update:
Windows Hello - Microsoft's fingerprint and facial recognition system will expand its functionality and work with a lot more applications and websites. This means that passwords are one step closer to being an obsolete security measure.
Cortana - After the Anniversary Update rolls out to your PC, you will be able to activate Windows 10's virtual assistant even from the lock screen. This new functionality will also let you use your voice to trigger it, which means that you can say 'Hey Cortana' to activate the assistant. Furthermore, third-party support has also been improved, so you will be able to order rides, make reservations and more, once you use Cortana to make a calendar appointment.
Xbox One - Those who own the console will now be able to access the Windows Store directly from it and use the device as a development kit.
Windows Ink - This summer's major upgrade will also expand the functionality of the stylus by enabling users to auto-create reminders from their handwritten OneNote dates or finding the distance between two points on a map by drawing a line between them. Additionally, users will also be able to easily pull up a list of recently and suggested pre-enabled stylus apps.
This is all we have so far, but these are definitely not the only changes that we will see. The IT giant will most likely announce more by the time the Anniversary Update starts to roll out. In case you're already using Windows 10, you might also enjoy reading some of our previous stories such as: "How to a create a USB recovery drive for Windows 10" or "How to fix Windows 10-related WiFi problems".