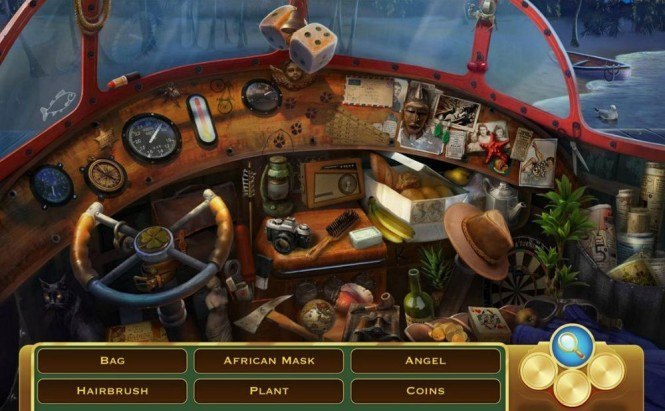 Exciting Hidden-Object Games
There's nothing easier than explaining what hidden-object games are. In this type of games you have some sort of a rudimentary story, and maybe even a goal of some kind, to get you going; e.g. if the game says that you are a prince and your princess has been kidnapped, chances are that you'll be asked to find and save her. But that's not the point. The point is that these are not action games, so you won't have to fight or shoot anyone on your way to the princess; instead, you will be given a chain of tasks that involve searching for objects hidden in heaps of other objects. And yes, that's where this type of games got its name from. In most cases, with every new found item you will get more clues as to what and where to search next, which reminds me of the concept of point-and-click adventure games: search for items, try to match them, figure out how to put all the pieces together, rince and repeat. And you'll probably get a beautiful picture at the end. Or maybe you save your beloved princess. Not both.
Murder in New York
The title Murder in New York pretty much explains what the game is all about. If you are still guessing — you will be playing for the «good guys», not the murderer. When the game starts, you will be shown a video clip in a sort of a «dubbed comics» format, if you will. The story is pretty standard and a little cheesy: you are a female detective who's been transferred to the SED (Special Enquiry Detail) department and you get to solve a murder of the Phelps's daughter. Her parents were sponsoring some charity gig and after the event they returned home and went straight to bed, as we find out later on. The funny thing is, the parents didn't seem to be bothered or upset by their daughter's death, they were chatting as if it's a casual thing.
The game itself is quite interesting and captivating, although the dialogues were annoyingly poor-written at times. But that's just a secondary component, so it doesn't really matter. First, you should visit the crime scene and collect some items (hidden objects that will help you solve the crime). Then you investigate others places, and it is all built around finding things crucial to your case. I don't want to give away any secrets or clues, so check out this game yourself. Besides, there are hints in the game, too.
Nightmare Adventures: The Witch's Prison
This game also starts off with a story told in the form of a flashback. We find out that the main character, a girl named Kiera Vale, is searching for her family story. In the flashback, Kiera is recalling the time when she was visiting the Blackwater Asylum, an old abandoned place she inherited from her parents. During the game, it turns out that Keira's parents were involved in building the asylum and that there are some ominous mysteries surrounding the place. The first mission puts you in front of the asylum, which is, obviously, closed. Then you start gathering different supplies, hints, and instruments trying to get access to the asylum. After you do, more places will become available for exploration, accompanied by different tasks and puzzles. The plot is very captivating and I literally spent hours playing. The only disadvantage is the cost of this game: for me, the asking price of $6.99 makes it totally worth it, but you may want to make sure you'll like it (or not) by watching video recordings of the game.
Both games are fun and enjoyable, but I would advise to check out the free app first to novices in hidden-object game genre, it will help you decide whether or not you are into it.