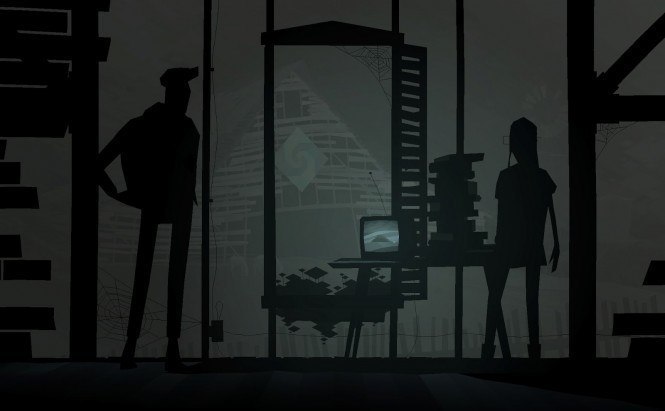 Great Games of 2013: Part 2
5. Kentucky Route Zero
This game was developed and published by an independent studio called Cardboard Computer, and like many latest indies it began as a Kickstarter project. Kentucky Route Zero is a non-traditional point-and-click adventure game divided into episodes; and it revolves around this truck driver, Conway, who gets hired to make a delivery and somehow gets lost on the roads of Kentucky, finding himself at an old gas station, "Equus Oils". That is the game's starting point, and you will have to play as Conway and try to find where you are and what's what. There are no (at least for now, with two Acts already released) actual puzzles or problems to solve, you just kind of wander around clicking on various objects or people and reading the dialogs. I do not want to give away too much, just be sure to check it out if the screenshots make you in the least bit curious.
4. The Stanley Parable
This game is a satire. It makes fun of games and gamers, it is a source of inspiration and laughter, ridiculousness and self-criticism in equal measures. The gameplay is built around this guy, Stanley, whom you control from the first-person perspective. Stanley has been working in his cubical pressing the exact buttons he was told to press, over and over again, until one moment his monitor went blank. That is when he starts wandering around his workplace seeing that there are no people in the building, and he explores it to find out what's happened. I've already told you too much, and the game is much too good to be spoiled. I'll just say that there is no gameplay in the traditional sense, the game consists of walking around and clicking things and listening to all these jokes and witty comments about things that only a select group of people can fully understand. Check out if you belong to that group!
3. Assassin's Creed IV: Black Flag
I suspect you are familiar with the Assassin's Creed series, but you might not know much about the new one dismissing it as something utterly disappointing after the lackluster third game of the series. It is the same old historical spectacle (with a lot of action, of course), an open-world game that builds upon the principles of its predecessors and spices them up by adding naval combat as the core gameplay mechanic. Yes, you've heard that right: you spend most of your time sailing and getting into battles with other ships, and you will experience the thrill of taking over vessels with plenty of shooting, stabbing, and other fun stuff.
Unlike what you saw in Assassin's Creed III, upgrades for your ships have now become an important part of the gameplay instead of being a gimmick for the fashion-inclined, so be prepared to go a long distance with the game. I could barely stand having to go to sleep when there was so much of undiscovered treasure both on land and sea.
2. Papers, Please
Okay, the premise of this piece of art may sound ludicrous and funny, but the game actually raises some pretty serious topics. The gameplay of «Papers, Please» is built around the work life of an immigration officer of a fictitious country called Arstotzka. You play as the said officer, and it's your job to search and question the people trying to get into your country. The rules and regulations change every day reflecting the bleak life in your country; and you often have to decide between earning enough money for you and your family and your duty. You will even have to face such tough decisions as whether to accept or decline a bribe, in between preventing terrorist attacks and catching smugglers.
The story has a few endings based on your decisions, all of which are far from shallow — will you or will you not support an anti-government organization and take part in creating a new order?
1. Brothers: A Tale Of Two Sons
(developed by Starbreeze Studios, published by 505 Games)
Brothers: A Tale Of Two Sons is an adventure video game that starts off with a heart-touching story about two kids almost losing their father and having already lost their mother. The story unfolds little by little, letting you see just enough to start caring about the characters — and the novelty is that you unfold it by controlling both sons simultaneously. The gameplay consists of you trying to find the medicine for the dying father through running around solving interesting «puzzles» (which are not particularly challenging, and mostly involve interacting with different objects with both brothers at once) and completing all sorts of side quests. The characters in the game talk in a mix of gibberish and some kind of a cavemanish proto-language, but at the same time you can actually understand what they mean at all times.
Now, the problem is that you will most certainly need a gamepad. Since you play as both sons at the same time, it is nigh on undoable with the keyboard in my experience; and to top it off, you can't just use any joystick or gamepad you have lying around. You can only use the XBOX 360 Controller, but thankfully there's a way around that: you can install X360CE, a free Xbox controller emulator, and map the buttons on your gamepad to the virtual Xbox 360 gamepad. At least that's what I did.