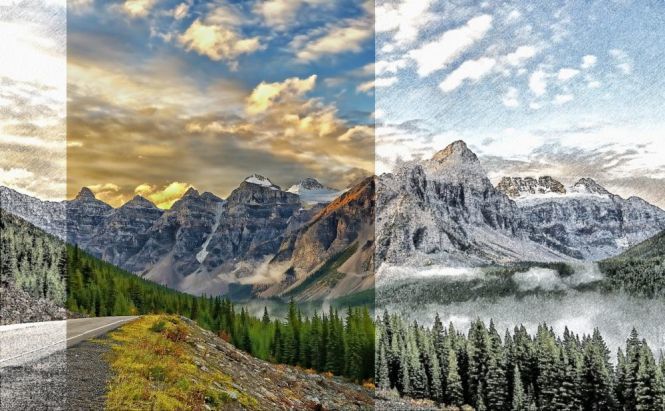 The Most Useful Sketcher Ever
Digital photography showed itself as a more convenient, easy-to-work-with art form. JPEG, RAW and other formats allow us to make magic things with the taken photos: change backgrounds, erase unwanted parts, etc. Sometimes we want them to look like an art masterpiece, a hand-made painting, or even a pencil sketch. In these cases we turn to image editors.
Is it difficult to make a sketch? I guess, most people will answer positively. It takes time and lots of effort to make a high quality image by hand. Image editing programs save our time. They usually have preinstalled sets of effects that allow any person to bring a new look to the photos.
Sketch Drawer
A tiny tool called Sketch Drawer leads our list for being easy and powerful. Its interface is not overfilled with buttons, options, or other stuff that may negatively impress a user on the first program launch. The most helpful function of this editor is Effect Preview: you can see how your image will change before applying the changes. This quickens your work, as redrawing of an image or a set of images generally takes some time. The outcome is of a good quality that is likely to satisfy your needs. Be careful, you have to pay for reaching full functionality of the program.
AKVIS Sketch
This utility, just like the previous one, is to be bought if you want to have all the features available. Nevertheless, its Artistic Style tool creates very elegant sketches that look like hand drawings with gentle strokes, noticeable contrast between shadows and light. It can be operated in Express or Advanced modes depending on the level of control upon the changes you want to have. Mind that AKVIS Sketch is a costly tool.
AKVIS Sketch Drawing With Artistic Style
Photo Sketch Maker
This photo editor differs from the two in the variety of saving options and creativity freedom. You can save the result as an ordinary image file or as a wallpaper setting it to your desktop right from the app. You do not have a lot of options in what you can do with the image, so do not expect that you will get the result provided by AKVIS Sketch Artistic Style with Photo Sketch Maker. At the same time, this is the cheapest of the tools mentioned so far.
Phtoto To Sketch
This one is a free tool, unlike the all described above. This is its main advantage. The program interface is very simple with all the tools placed rather handy on the main window. Photo To Sketch opens only JPEG, JPG, and BMP files and doesn't have any other image editing options. This free tool may help you out if you need to turn a photo into a sketch quickly. Do not expect much from this tool. You may not like the result.
Two Areas For Confort Work
FotoSketcher
This is a good example of a functional freeware utility. It has a lot of parameters and drawing styles to choose from, but the actual style conversion is fully automated. You can easily make your photo look like an ink sketch. Its interface is very convenient being split into two areas: the source and the changed image one. It surely has enough functionality to make you enjoy this tool for long. FotoSketcher seems to be the most advanced photo sketcher you can get for free.
Like programs of any other kind, photo sketch creators have a lot of things in common and differ in details. You can make monochrome sketches, use colored pencil presets, change the backgroud, color, etc. with any of the mentioned tools. Choose the one that suits your needs and enjoy freshly made sketches.