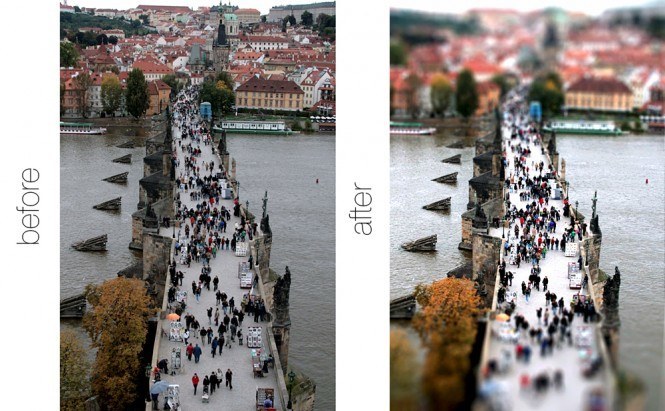 Add Popular Lens Effects to Your Photos
Ever wish you had a wide angle lens to create that stunning fisheye photos? Or those romantic bokeh images? Or popular tilt-shift miniature faking pictures? You think they look really exciting but cannot afford professional quality lenses? Fortunately, most popular lens effects can be simulated digitally. On the web, you can find a great variety of tutorials that will explain step by step how to apply some lens effects in Adobe Photoshop. But again, this software bundle doesn't come for free. Need an alternative? Here are some popular lens effects that you can create with the help of basic photo editors.
Tilt-shift
Tilt-shift is this amazing lens effect that tricks you into thinking you are viewing a miniature scene when it's actually a life-sized place or object. In photography, tilt-shift is used to distort the focus of a camera view to create an illusion of depth of field. It is one of lens effects that can be easily simulated digitally.
Artensoft Tilt Shift Generator offers an easy way to apply tilt-shift effect to your photos. The utility uses a technique that blurs certain areas of an image, producing the famous tilt-shift photography 'macro' look. You can customize the strength and graph of defocus and the size of focus. You are also provided with a great variety of other options like the adjustment of brightness, saturation, and contrast. Artensoft Tilt Shift Generator offers a great basis for creativity. Provided you choose a convenient photo to simulate the effect, Tilt Shift Generator will bring you stunning results.
'Macro' look effect made with Artensoft Tilt Shift Generator
Fisheye
Fisheye photos are always eye-catching as they create an illusion as if you're looking through a fish bowl. A fisheye lens can cover an extremely wide field of view, distorting the image and giving it a very interesting effect. Fisheye can be used to make funny close-up portraits or add an artistic effect to your photo.
I should say that simulating the fisheye effect is not that simple as tilt-shift, for instance. Computer software cannot fully reproduce the effect as it simply can't make the angle of view in the original photo as wide as a real fisheye lens. Probably, only Photoshop or Gimp can help you get results somewhat close to the effect produced with fisheye lenses. Certainly, you can use such basic photo editors as Home Photo Studio, for instance, that will provide you with a result in a few clicks, but it is a big question whether you will be satisfied with it. I wasn't, although I tried many various pictures hoping to get at least one satisfying me. Here's one of the outcomes:
Even the cat doesn't seem to be satisfied with the result
Bokeh
Bokeh is referred to the blur or the quality of out-of-focus blurry parts of a photo. Bokeh occurs in the regions of an image beyond the depth of focus and usually looks like a series of reflective dots. Achieving a bokeh effect in photos with the help of lenses can be quite tricky and requires some practice. Luckily, just like tilt-shift, bokeh can be easily simulated with the help of software.
XnRetro and AKVIS Refocus will allow you to add a bokeh effect to your images. Both applications also provide other various effects and styles for more complex editing. Nevertheless, the utilities differ in their approach to adding the effect. XnRetro will rather let you add a bokeh overlay of circular light dots all over your image while AKVIS Refocus will just let you blur some areas of a photo which doesn't necessarily mean you'll get characteristic light spots at all. I had to work for a while with my photo to get it to acquire these dots.
My try to achieve bokeh effect in AKVIS Refocus
Apparently, computer-generated filters can never outgo real shots taken with photographic equipment, still we may prefer digital simulation for a few reasons. Using software is much cheaper and allows for full control over your photos. You can apply several filters to one photo and chose to add or erase them at any moment. At least, there's nothing stopping you from trying some of the mentioned tools, all of them have trial versions or are completely freeware.