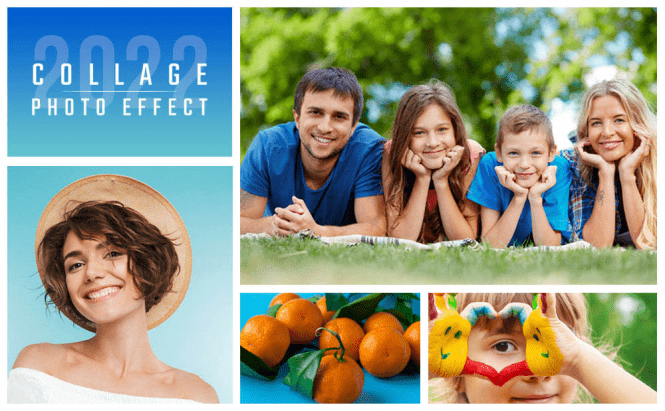 5 Best photo collage makers in 2022
Collage is a great way to turn a bunch of your images into a single work of art. There are tons of photo-collaging tools available that will help you combine your photos and make them visually appealing. In this article, we've picked the top free and paid-for standalone programs with different handy tools to make collages, share them on social media and turn into custom photo gifts.
Fotor
Highlight features
Multiple export options
Awesome templates
Various aspect ratios
Cons
Some features require a subscription fee
Fotor
Besides a collage making tool, Fotor offers an image editor, a retouching tool and a batch processing option. You can either pick one of the patterns or organize your images in whatever way you prefer using the Freestyle feature. The solution allows you to choose among multiple scenes, effects, borders, and textures which you can combine to get stunning images. Moreover, you can adjust the aspect ratio and resolution of your output collage before saving it in JPG, PNG or PDF format. All the necessary tools are free. However, some additional options and ads removal will require Premium membership.
FotoJet Collage Maker
FotoJet Collage Maker
Highlight features
A wide range of editing tools
Stylish template designs
Cons
FotoJet Collage Maker is a flexible program that will let you arrange your images into stylish collages and share with friends and family. You can create a collage using a grid or an illustrated design and then choose among a wide range of templates. In addition, you can change the size of the boxes provided for the images, the background color, and other parameters. The results can be saved as JPG or PNG files with custom compression and size settings or shared via Facebook, Twitter, or Pinterest, or printed straight from the software.
PhotoPad
PhotoPad
Highlight features
Various grids
Multiple editing tools and clip art
Cons
Lacks the option to add text and shapes
Even though PhotoPad's design looks a bit dated, the solution is rather fast and flexible. It offers a broad array of grids that can be then personalised. You can import photos from a scanner or a webcam, edit pictures by rotating, cropping and resizing them or automatically reducing noise, and apply different effects. Your creations can be saved in various popular formats or directly uploaded to Flickr, Dropbox, Google Drive, or Facebook. As a downside, PhotoPad offers no option to add text or shapes.
Photo Collage Maker
Photo Collage Maker
Highlight features
Quickly prints a collage
Various templates, frames and stickers
Cons
The trial version watermarks saved collages
Photo Collage Maker is an easy to use program that provides multiple tools to create stunning artwork from your pictures. You can choose among hundreds of professional templates of various themes and styles and add different frames, masks, captions, and stickers. In addition, you can edit the text in the collage and customize its font, size and color. The results can be saved in various popular image formats like BMP, JPEG, PNG, TIFF, and GIF.
Picture Collage Maker
Picture Collage Maker
Highlight features
Powerful photo editor
Tons of templates
Cons
Some features require upgrading to the paid version
Picture Collage Maker is an intuitive and versatile collage maker. You can start combining your images manually with built-in templates or use the autocollage option. The solution allows you to customize the color palette, insert and modify text, add frames, stamps and masks, preview the results, and save them in various common image formats. You can print collages, use them as wallpapers, or send them to your friends via email.

Here's a list of our top picks for those looking for a software solution to build a custom collage on their PC. Most of them come with basic tools that are completely free. However, some programs offer advanced features that might cost you extra bucks.