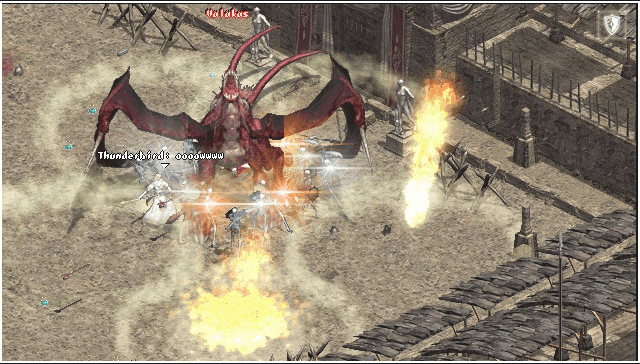 Spellbook: Resist Addiction
It grips your mind, it takes over, infatuates you. It encroaches upon your time and private life. It turns you into a zombie that is unable to think rationally any more.. Ladies and gentlemen, meet Lineage II, one of the most popular massively multiplayer online role-playing games.
The outspread of this virus began in 1998, when a newly established South Korean company called NCSoft released Lineage, which later became the first role-playing game to overcome the barrier of 100,000 concurrent users. Then the Koreans installed Lineage gaming servers all over the world, and, inspired by the success they had achieved, decided to create a sequel that could impest even more innocent passers-by.
Lineage: the Cradle of the Virus
So, they turned the gnarly 3D graphics of the original game into picturesque sceneries of a new world, inhabited by cute anime-style characters and numerous mobs; then they added a great variety of new quests, skills and abilities, equipment, pets, thus creating another new plague of the 21st century.
Why do I call it a plague? Let me explain it to you, so to say, from the inside. Here I must confess, I used to be totally addicted to this game for around one and a half years, and I still recur to the memories about my hero Treasure Hunter from time to time, especially when I come across announcements of various updates made to the game.
Lineage II: Mysterious Plague
Well, let's put the exhilarated exclamations aside. Just imagine: once logged in, you enter a completely different world, free from humdrum, free from homework, or crying children, or censorious bosses. In this world, you look the way you like, you do what you want, you get acquainted with people from all over the world, who, given they're generous enough, can sometimes even give you costly presents (as opposed to your neglectful and avaricious boyfriend, for example). Everybody's waiting for you to finally appear online, as they're unable to kill another raid boss without your buffs, you always feel needed..
Whoa, we put the exhilarated exclamations aside, I tell you. So, for those who've never tried out this game (oh lucky you!), I'll briefly describe the plot and the gameplay. Once upon a time, there lived six different races, all together, merry as sandboys. Then, as it usually happens, someone became obsessed with the idea of ruling the world. That's how it all began, not to go into details concerning who it was, where it happened and which gods were involved. What we (or rather the said races) have now is the world of Aden, a made-up kingdom inhabited by elves, humans, orcs and dwarves of varied professions. In this world, you can create clans and alliances to fight for castles, challenge other players to duels, fight evil creatures, make and sell weapons and armour, thus making virtual fortunes. It may sound all too boring, but when you see it, and especially when you start playing together with your friends, all this stuff becomes the stumbling block of your life. You understand that it would be much more sensible to give it all up, that your real life is more important than what you're now doing in front of the computer all day long; but you can't help opening the game client again and again when you come home. And for many, if you dare going out at all, that's already an outstanding achievement! For it means your enemies have more time to gain experience and enchant skills.
As a result, we have troops of zombies ready if not to kill then to maim those who treat their virtual characters ill. Now I want to ask you, dear readers, why does this happen? Everybody knows that game addiction is a terrible disease. I would like to know, however, how the imaginary world manages to immerse adequate people with established lives; immerse them so strongly, in fact, that they are ready to abandon their well-paid jobs and honours degrees in favour of killing another hundred mobs. Any ideas?