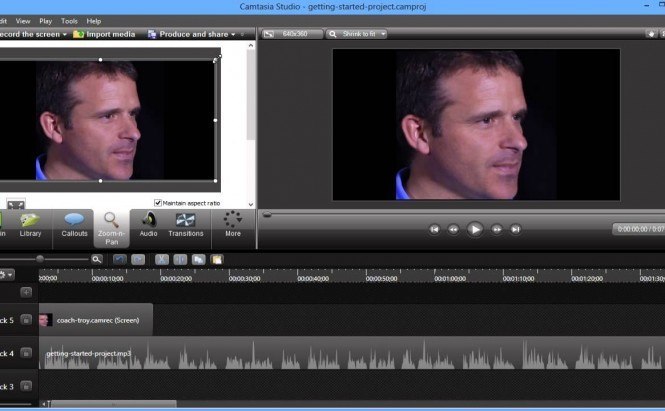 Record Your Computer Screen
You may not think that you know what a screencast is, but chances are that you've seen a couple, especially if you're a Software Informer frequenter. When you watch an online video of some advanced user explaining different features of an app by showing that app in action and commenting on what he's doing on his screen - that's a screencast. Some people still believe that these videos are filmed by pointing a digital camera at one's monitor, but that, of course, is not true. These days we make as little effort as possible to get the job done, and that's why there are so many different programs that help you create, edit, and sometimes upload a screencast to the Web. I'll give you a couple of examples of consumer-grade and professional screencasting tools.
JING
Let's start off with a simple and, more importantly, free screencasting tool. Jing is an example of a straightforward approach to screencasting and it is actually quite good for taking simple screenshots and video screen captures. Besides capturing a picture or video of the user's screen, Jing allows easy instant uploading of those screenshots and videos to the Web, an FTP server, or a network computer, as well as saving them locally as files or clipboard items. It also provides you with the URL of your uploaded image/video so you can quickly share it with other people. You can select any window or region that you would like to record, and Jing will capture everything that happens in that area.
Jing
The downside of this application is the 5-minute limit for your videos, which may be more than enough for some people, but is expectedly too short for others, especially field professionals. And there are no editing tools in Jing, so you cannot e.g. improve your tutorial and make it more visually appealing and approachable.
Camtasia Studio
This application comes from the same developer, but is priced at $299 and offers a lot more features than Jing. Of course there is no point in buying it for a regular user, who would only touch it once in two years. But if you are a professional or planning to become one — such an investment is more than reasonable.
Camtasia Studio
Camtasia Studio has a great output format support, a built-in editor, allows for picture-in-picture video, offers the intelligent zoom feature that focuses on the action, gives you the ability to transcribe your audio track, and even has a PowerPoint plug-in. Also, the videos you make with Camtasia Studio are in high definition (HD), which is fairly uncommon in screencasts and may certainly make your tutorials stand out.
It also is good for capturing gameplay videos as the app comes with DirectX and OpenGL support. You may feel a little intimidated starting off with Camtasia Studio, but that's what tutorials made by other users are for, and there is a number of them on the Web.
Debut Video Capture Software
Debut
Here's another free (for non-commercial use only) screencasting application that's somewhat popular among users. Its selling feature is that it lets you record from your webcam, external devices, computer screen, or even streaming video. The list of output formats is also quite impressive and includes the common AVI, WMV, MPG, FLV, MP4, and MOV formats among many more. You can adjust the video resolution, size, and frame rate for your captures, but the built-in editor, unfortunately, is limited to applying video effects and nothing more.
Conclusion
These three examples will give you an idea of what screencasting applications are capable of. If you don't want to spend any money, you might just make do with combining a bunch of free applications. For example, you can use a freeware video editor if your video capturing software doesn't come with one. I must mention that there are online screencasting services as well, and you may also find them quite useful. And if you've already decided on something, share your experience with other users in the comments below.