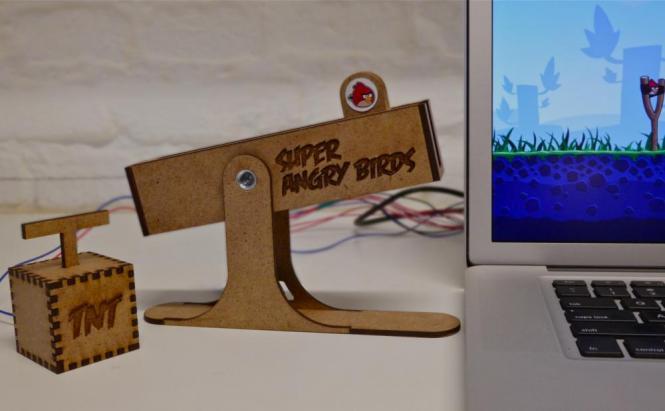 Physical Slingshot Controller for Angry Birds
Two Copenhagen students have proven it: the augmented reality isn't limited to fancy info icons popping up in your (upcoming) Google glasses. Hideaki Matsui and Andrew Splitz have gone the same path as Microsoft Kinect engineers and crafted a fascinating game controller for Angry Birds.
Don't even ask me how the thing works: my rather limited stock of technical knowledge doesn't allow me to explain to you its working principle in layman's terms. However, my intellectual abilities and admiration for Angry Birds are enough to admire the work the two Copenhagen students have given the world.
The new controller is in fact nothing but a motorized slider that provides the player with physical feedback. The enigmatic 'physical feedback' boils down to the slingshot's resistance growing as you strain the device. The nicely thought-out design of the gizmo also allows for immediate control of the shot direction as well as the right moment to release the slingshot. There is also an additional controller, stylized as the familiar in-game TNT-box, which can be used to activate each bird's special ability.
Super Angry Birds - a Tangible Controller from Andrew Spitz on Vimeo.
For those few who still don't know what I am talking about: Angry Birds is a game hit by Rovio Entertainment. Initially an iOS exclusive, the story of enraged birds fighting against helm-protected pigs quickly reached a cult status and spread to most gaming platforms, from PC to Mac to Android. Angry Birds has long become a cultural phenomenon and gone far beyond the borders of gaming. In fact, it's no wonder that Angry Birds has become one of the first mainstream games to break the fourth wall and convey the gaming experience in a more direct way.
The slingshot is not the first physical controller for Angry Birds. Simon Ford, the director of tools for ARM, presented his own USB slingshot this February. Of course, tastes differ, but that particular device seemed less exciting than the über-cool slingshot from Copenhagen.
Perhaps the only drawback about the new gizmo for Angry Birds fanboys is that the slingshot is not yet available for purchase. If you want to try it in real life, you will have to rebuild it based on the information provided by Matsui and Splitz, or by getting in direct contact with them. However, taking into account the enormous geek potential of the Rovio game and the overall awesomeness of the slingshot, we dare to assume that it'll not be long before the product is brought to the market.
Picture Credit: Hideaki Matsui & Andrew Spitz