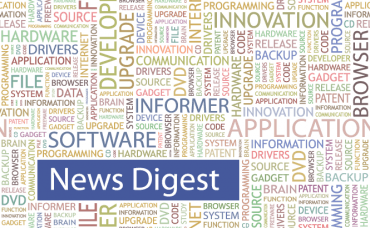 News Digest #7
Dear Software Informer users! I'd like to let you know I'm finally back to cheer you up with another batch of news. This week (10th to 18th September) in the Software Informer news digest:
Facebook finally affords subscription to pages of interest, Microsoft gives out tablets with their fastest booting operating system, while Google buys patents in bulk and launches a flight search service, at the same time trying to make customers use their cellphones as wallets. In the meantime, uTorrent and BitTorrent websites get hacked, and Adobe gives itself up to another round of the competition war.
News Digest
Last week, the Facebook team announced the implementation of the 'Follow' button. It will allow the users to read public posts of those who are interesting to them, but who still cannot be added as friends. Facebook has also implemented smart lists, which allow better organization of contacts. So, we see that the trend originating from Google+ is distinctly gaining momentum, which is by no means excessive. Well, I mean, it would be amusing to read some mistakenly public messages on, say, Katy Perry's personal FB page. By the way, the forebear of the privacy fever, Google+, is itself becoming almost enigmatic: the last two months have shown a decrease of 41% in the number of public messages, and even Larry Page, Google's CEO, hasn't written anything since August 15th, claiming his posts are available for his circles (trusted groups of users) only.
I have always wondered how Google manages to generate ideas with almost lightning speed. Not only they generate the ideas, they put them into life at the same tempo. Conquering the world may be slowly becoming an absolutely real task. This week, Google has launched a service that scans databases of various airlines and allows visitors to find the most remunirative and convenient flights. Although the feature is so far limited to only a few US cities and includes an relatively small scope of data, the service can soon become the primary source of flight booking all over, given it is developed like any other Google's idea: with millions of investments, heavy marketing and strong development teams. Meanwhile, another department of the empire slowly acquires everything remotely useful it comes across in the IT world. This time it is a package of 1023 patents bought from the blue giant, IBM. Google's another grandiose intention is a digital wallet built into a cellphone, announced as long ago as May. The so far non-existing feature is already being heavily advertised, featuring the once-famous George Constanza, the character of American Seinfeld sitcom, who had a wallet filled with papers of all kinds, which was so large that it finally exploded.
On Monday night, a group of yet unknown hackers carried out a campaign against the most popular Torrent clients, uTorrent and BitTorrent, which implied replacing the client's installation file with a malware program in the download section of the website. The problem was quickly detected and fixed, but it still is highly recommended to check your computer for viruses if you happened to download something from the website since Monday.
Microsoft has raised its activity level lately. The company has announced a number of updates for several popular services, among which is Windows Live SkyDrive, a cloud-computing-based part of the Windows Live package. The service now allows storing 25 gigabytes of information; after the upgrade, the limit will be lifted.
The most anticipated (by me at least) news items, however, touch upon the brand-new, almost revolutionary operating system by Microsoft - Windows 8. This week finally shed some light onto the future course of events. During the BUILD conference, the company introduced the first Samsung tablets with the beta version of Windows 8 installed on them and then gave the prototypes out to the software developers who visited the conference. Oh, how madly I wish I had been among them! What can be better than Windows (hence totally user-oriented), an 8-second-booting flash-player-killing vivid operating system? By the way, they also promised to share the pre-release with the users in the near future, and they really have. Feel free to grab your copy from the Microsoft website and have a go. Hm, and you know, Skype has already added support of the new Microsoft development.
Talking about Windows 8's ability to replace Adobe Flash Player, we mean the new browsing technology implemented in the proprietary Wi'8 web browser, Internet Explorer 10. The technology is called Metro and helps improve battery life, security, reliability and privacy. What is unpleasant for Adobe is that it does not support any plug-ins. Microsoft claims that's because these plug-ins will worsen the performance rendered by Metro. Although Adobe seems to be put under serious pressure in this situation, they claim they have nothing to be afraid of, as, firstly, Flash will still work with the older but more widely used desktop technologies, and, secondly, the company has plenty of side-projects that will enable Adobe to stay afloat whatever happens to Flash.
These have been the main news items for the week. I kindly thank you for your attention and hope you've enjoyed our 7th news digest. The coming week will bring even more interesting issues. Stay with us and be updated!