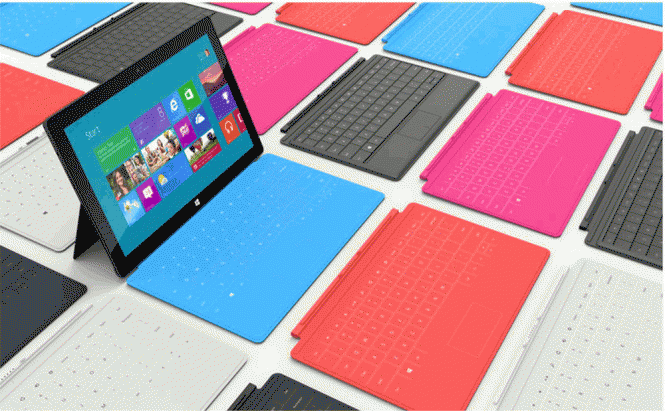 Microsoft Presents its New Tablet
In the middle of June Microsoft arose ambiguous emotions about their new 'toy' – Surface. A new tablet which can boast not only of Microsoft software, the hardware is created by the company as well. The product has some revolutionary bonuses: full-size ports and a 3 mm thick physical keyboard.
Thin or thick?
With 9.3 mm, the Windows RT tablet is a bit slimmer than the third generation iPad, although the Windows Pro version is said to be a bit thicker – about 13.5 mm. Yet the quite austere design plays a nasty trick on your eyes and Surface seems a lot thicker than it really is, at least in pictures. Yet the form and simplicity in the appearance of the tablet seem to be quite reasonable and logical in combination with a Metro-style operating system by Microsoft. On the other hand, compared to, say, iPad, Surface does look a bit coarse, as we have already got used to smoother lines and elegantly bevel-edged devices.
Microsoft's Surface Side View
Yet Microsoft makes up for the questionable look with a thin (3 mm for Windows RT supporting version) multi-functional pressure-sensitive cover and a built-in Kickstand. The Kickstand is part of the device, providing safe and comfort positioning on the table. The outstanding feature of the cover is that it doubles as a fully functional keyboard with track-pad. As a result you get a two-in-one goodie: a magnetic tablet cover (feeling much like Apple's smartcover for iPad) and full-fledged touch-based keypad. However, it is still unclear whether it will it be included into the basic package or will come as a separate accessory.
Which one do you like?
What is clear is that the tablet will come in two versions – with Windows RT and Windows 8 Pro installed. The two Surface versions will have different features, the latter version being more suitable for office use. As the specs available now show, the Pro version will be a bit heavier, thicker and more powerful than its brother. Windows claims the Pro version was 'built to let you use all of the applications you want — including Photoshop', a rather resources-demanding program. The Windows 8 Pro Surface is supposed to have Full HD display, Pen with Palm Block and 64 or 128 GB memory.
Microsoft's Surface General View
As for me, I have rather ambiguous feeling about this PC-tablet. On the one hand, it would be interesting to hold it and try to type something, test it from every side. On the other hand, I haven't made up my mind yet whether I'd be eager to buy it. There are several reasons for it. First of all, the price is still unknown. Second, and it bothers me even more, we don't know if the cover is supposed to be included into the basic package. Well, the time will show the real way of things, meanwhile let's wait.