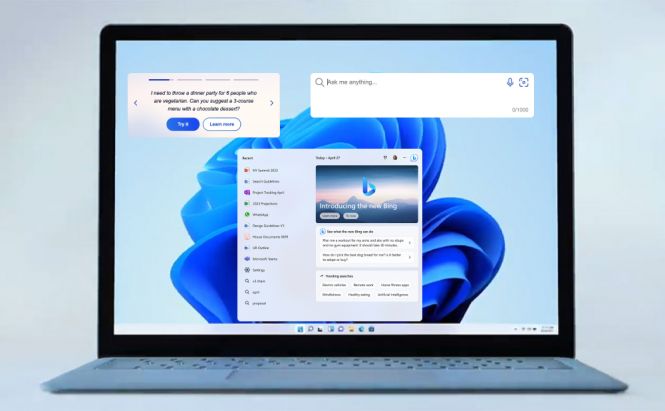 Microsoft brings its new ChatGPT-powered Bing to the taskbar
First launched in November by OpenAi, the artificial intelligence chatbot, ChatGPT, has taken the tech world by storm and is going viral at lightning speed. Last month, the generative language model was integrated into the Bing search engine and Microsoft Edge browser, which significantly enhanced the user experience. Now, with the latest Windows 11 update, Microsoft is bent on expanding the capabilities of the OS by bringing the chat features to the taskbar. What does it imply for Windows aficionados, and how does it facilitate the whole workflow? Let's take a closer look at it together.
What is ChatGPT?
The revolutionary development in AI technology, ChatGPT is a language processing model, capable of communicating and generating human-like replies based on a certain instruction. In other words, if you're looking for assistance in composing original texts of any complexity and on any topic, enter a prompt to direct the tool towards a particular subject and expect to receive a relevant, intelligently-generated output. Along with endless amounts of text-based materials, ChatGPT can even code for you or engage users in philosophical conversations. The powerful content generator has been fine-tuned to produce results in many languages, including French, Spanish, Chinese, or Russian, as well as to understand and write code in Python, C++, SQL, or Ruby.
How to use Microsoft's ChatGPT-powered Bing?
Screenshot by Haley James
Since unveiling the ChatGPT-based search engine, Microsoft has provided access to the updated Bing preview in 169 countries, now with more than 1 million people discovering the new era of 'net surfing.' If you want to try out the Bing AI chatbot, you'll need to join the waitlist at bing.com/new, log in with your Microsoft account, and the tech giant will add you to the list and let you know when you can access the new search engine.
However, to improve your chances to get the new features faster, here are a few tips the company suggests:
set Microsoft Edge as the default browser on your system
make Bing as the default search engine on Edge
choose MSN as the default homepage
pin Bing.com to your taskbar
add Microsoft-recommended sites to the 'Favorites' tab
create a desktop shortcut for Microsoft Edge
download the Bing app on your phone
Other new additions to Windows 11
credit: Microsoft
As the reinvented Bing capabilities gained popularity faster than any other tech trend in recent years, it's little wonder the latest big Windows 11 update has made the AI-based Bing search available as a shortcut from the Windows taskbar.
"Soon hundreds of millions of Windows 11 users can get access to this incredible new technology to search, chat, answer questions and generate content from right on their Windows taskbar," states Microsoft's chief product officer Panos Panay.
With the new update, users won't need to launch Microsoft Edge to initiate chats with the bot: typing an inquiry into the taskbar's search box and clicking on a Bing icon should make the process more straightforward and efficient.
credit: Microsoft
The major Windows 11 update isn't just all about the AI-powered engine, though. Microsoft has also introduced a preview of its Phone Link for iOS, which enables iPhone users to link their devices directly to Windows and send or receive messages, including iMessage, make calls and notification right from the desktop.
Moreover, thanks to a new tablet-optimized taskbar, Windows 11 ensures an enhanced touch screen experience. There are now new gestures to easily open and close Start, Widgets, and quick settings, as well as improved touch controls for Snap, which essentially simplifies navigating without a mouse and keyboard.
credit: Microsoft
On top of that, the recent update has finally released an official built-in screen recorder in Snipping Tool to let users capture an entire screen or crop for selected windows. All screen captures are automatically saved to a default folder, while Windows key + Shift key + S shortcut provides a quick way to the tool.
These are some of the new features available in the latest Windows 11 update for users with eligible devices running version 22H2. If you're interested in this functionality, open Windows Update settings (Settings > Windows Update) and select Check for updates.