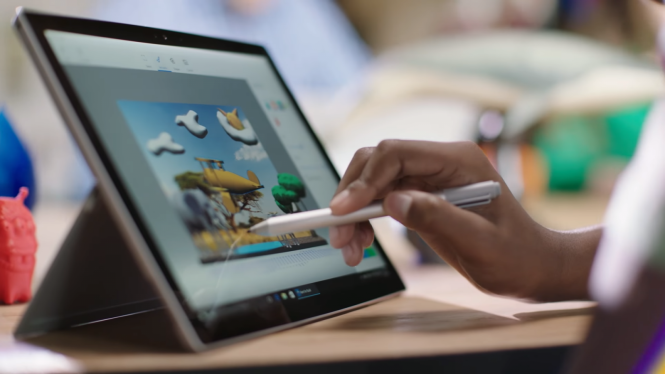 Enjoy Microsoft's Paint 3D
We've talked a few times about the upcoming Creator Update for Windows 10 and you've already read about most of the best new features that it will bring to the table. However, today I wanted to talk to you about a new image editor that the IT giant is going to officially roll out with the update called Paint 3D. Despite the fact that it's a sequel for the popular Paint tool that was present in every version of Windows so far, Paint 3D is actually quite different:
As you've probably already guessed, Paint 3D is an image editor focused on helping you create 3D objects and scenes. Unfortunately for most people, at the moment, Microsoft's new tool is only available for those registered in the Windows Insider program, but you'll only have to wait until April to see the application with your own eyes. Since I've been able to test the app for myself, I've decided to share with you my experience so that you know what to expect.
3D doodle
One of the things that you'll probably use the most often is the 3D doodling capabilities. This function allows you to draw something in 2D then inflate that item, making it into a 3D one. You can customize the 3D object by making it larger or smaller, flattening it or puffing it out. Paint 3D lets you sketch soft 3D doodles, which is a better choice for round, irregular shapes and hard 3D doodles that are better when you're trying to create items with clear lines and angles such as buildings or cars.
3D objects
Creating standard 3D items like cones, cubes, etc. is as easy as a pie. All you have to do is to click on the desired item from the menu, then place it on the canvas. Paint 3D allows you to change its size, rotate it whichever way you want and make it appear closer or further away from you. I'm sure that you can quickly figure all this out, especially if you've used image editors before. On the other hand, creating complex 3D objects is a lot more complicated and since the items don't deform when they're pressed against another item, creating even a simple snowman can be a bit tricky. The great news is that if you're in a hurry, Microsoft Paint offers a Remix 3D button which lets you search and choose from tons of pre-rendered 3D objects so that you can quickly populate your scenes.
3D decorate
Doodling or creating plain 3D items isn't enough: you also need to decorate them. In order to do this, Paint 3D lets you use stickers, text, or choose the desired color and texture. I found the stickers very useful for adding body parts like eyes or ears while the textures that are available help save time and make your objects look very lifelike. Lastly, the Effects tab is also quite handy if you want objects with different lighting, but sadly, shadows aren't featured just yet.
Paint 3D example
In case you're interested in reading more about the upcoming Windows 10 Creator Update, you should check out: "Windows 10 Creator Update will bring a much improved Edge" or "Game Mode and Beam streaming are coming to Windows Insider".