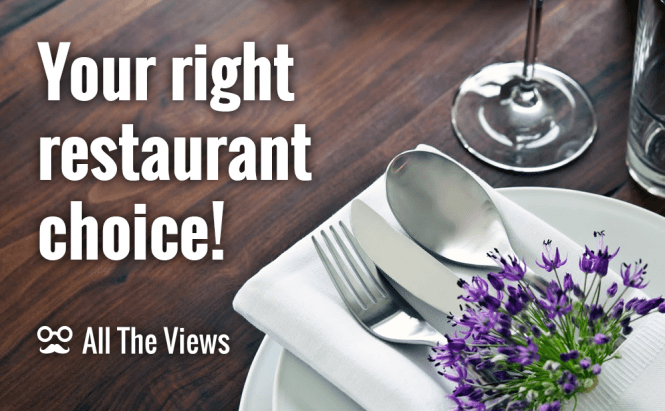 All The Views: compare Spanish restaurants
It's a pleasure for me to share with you, guys, my recent discovery. A new project called All The Views has recently appeared on the web. It aims to help travelers find best restaurants in Spain. The website is great at functionality and design and, as far as I can see, really succeeds in providing all the information needed to decide upon a restaurant. Let's see what All The Views has to offer its users in detail:
useful filters → to narrow down the search request;
valuable contact information → to book a table and study the distance between you and a restaurant;
different restaurant selections (Vegetarian restaurants in Seville or Japanese restaurants in Valencia) → to let you learn more about food, restaurant types, styles of cooking and enrich your gastronomic and traveling experience;
ratings and reviews collected from different agencies (Michelin, TripAdvisor, Yelp, Frommer's, Facebook, Google) in one place → to form an unbiased opinion.
The last point is actually unique. You won't see all these ratings on other resources. So, in some respect, aggregating reviews and ratings is the distinctive feature. And I suppose, here goes the title, All The Views, which implies expert and visitor opinions that a user collects about a given restaurant before forming its own attitude. The more reviews a place has, the more distinct impression it creates on its visitors. So, both for restaurants and users it's beneficial to get all the views.
Best restaurants in Valencia
Below I want to present the features that amazed me most.
Compare restaurants
When, for instance, on the mentioned website you search for a suitable place in Madrid (1), that will offer you delicious Spanish cuisine (2) at moderate prices (3), you get an extensive list of restaurants that meet your three-in-one criteria. Next, you study the information provided and make a choice: which place is the best one for you. And here you may be surprised, as the developers have integrated a cool option to compare the food spots that interest you on a separate page. Thus, you are able to see the information on needed restaurants in a more obvious visual way. Just press the Compare button and, voilà, the dining spots are conveniently placed in the columns and you may easily compare them.
Attractions
Restaurants near Barcelona attractions
I have noticed that pages providing restaurants in different popular cities in Spain contain the Attractions section, the group of restaurants classified by their location in terms of nearby sights. That's very convenient! Let's take Barcelona as an example. When you click on "Barcelona, 22 795 restaurants" on the home page of the website, you are offered to look at its greatest restaurants near popular sights. So, now, when planning a trip to Barcelona, you may know about best restaurants near Park Guell or any other attraction beforehand and just add them to your route. By applying the filters, you can make your search results more personalized. Don't forget to finally compare the most interesting restaurants on a separate comparison page. ;)
***
It's high time to move from words to deeds. Open All The Views and take a virtual tour of Spanish restaurants by yourself. Kindly remember that your comments and suggestions are always welcomed in the Comments section below.