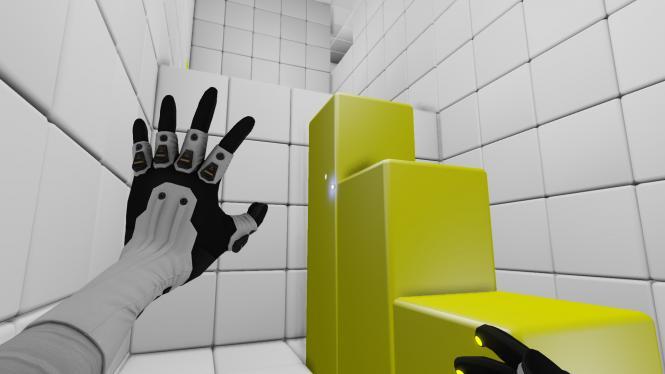 Challenging Puzzles in a New Way
It seems that a new type of puzzle games - first-person puzzles - has recently stepped onto the arena of PC games. The most remarkable and recognized game of this genre was "Portal", created by Valve Corporation in 2007. Its main idea was to allow players solve challenging 3-dimension puzzles from a first-person perspective (with the additional gimmick of giving you a portal-creating device, but that is beside the point). The game was very well received by critics, although it did have some shortcomings: it allowed for too many solutions to each puzzle, some of those being crazy to the point of seeming impossible, and yet the game was still considered too short overall. Nevertheless, it was acclaimed as the game of the year by a number of respectable magazines.
Portal's gameplay
What we observe today
"Quantum Conundrum" is due to be released this year. Unlike "Portal", this game is intended to appeal to a broader audience, still being challenging even for the most experienced gamers. It's no wonder that "Quantum Conundrum" appears to be quite similar to "Portal": its creator, Kim Swift, had worked for Valve before she left for Airtight Games a year ago.
This game is also played from the first-person perspective. There is a thick atmosphere of science fiction, too, with players exploring the professor's manor and solving challenging puzzles in order to progress from room to room. One of the most intriguing features in "Quantum Conundrum" is the ability to travel between four different dimensions. When you switch into one of them, you still can observe the same geometry of the regular environment, but the main look becomes softened (like in the "fluffy" dimension, for example), or time may be slowed down, or the direction of gravity may be changed.
Quantum Conindrum's gameplay. Antigravity dimension's look.
There's actually a whole new line of first-person puzzle games, with "Fract" by Richard E. Flanagan and the recently released "Q.U.B.E" by Toxic Games. "Fract" is still under development, but there's a beta version available on the developer's web site.
As for Q.U.B.E, it fully deserves more thorough consideration as a game that may suggest something new to puzzle fans.
Q.U.B.E (Quick Understanding of Block Extrusion) - a new 3d puzzle generation?
Although Q.U.B.E was only released a few days ago, on 6 January 2012, the game has already won a good average rating by its reviewers and is one of the most discussed products among the puzzle games of today.
You wake up in a sterile padded room (brings back a lot of "Portal" memories, doesn't it?) and here your brain storm starts: you notice various colored blocks that you can manipulate in the otherwise all-white environment. As is to be expected, these manipulations involve solving a great deal of puzzles by using your logic and spatial thinking. Unlike in "Portal", however, you have no clue as to why you're doing all that.
What the developers say:"Sectors 1 – 3 are at a beginner difficulty – the puzzles found here ease the player into the game. We spent some time fine tuning the introduction to the first three cubes as there is no text or voice explaining what the player has to do – they simply have to figure it out for themselves. The real challenge in the game comes from Sectors 5, 6 and 7."
It is worth noting that "the first three cubes" the developers are referring to are the red, blue and yellow blocks, and each of these types of blocks can be altered and used in a different way. Red cubes are extended in length up to there times, blue ones can be used as springboards, while yellow ones are always found in triplets and can be modified into a stairway.
Q.U.B.E's gameplay
Q.U.B.E does have some disadvantages, though: the whole game can be finished in just 3-4 hours (depending on your problem solving speed), and largely remains a reminiscence of "Portal", since Q.U.B.E lacks some crucial elements of the latter: there doesn't seem to be any plot, there are no characters, no mechanized voices talking to you, nor any sudden changes in the gameplay.
Nevertheless, the puzzles of increasing complexity are definitely more challenging than in many games of the kind, which is why Q.U.B.E can be recommended to even the most experienced of players. The game is surely worth having a couple of hours of fun with.
Summary
"Each room is a puzzle" could become a slogan for the first-person puzzle games of our days: this minimalistic approach to the premise and the overall story definitely seems to be taking dominance, stripping puzzles to their core elements. The fun we used to have with the famous Rubik's cube is simply being replaced with 3D standards, still remaining an integral part of our history. We would like to wish all the luck to the young team of Toxic Games; we hope to see even more interesting games developed by them in the future.