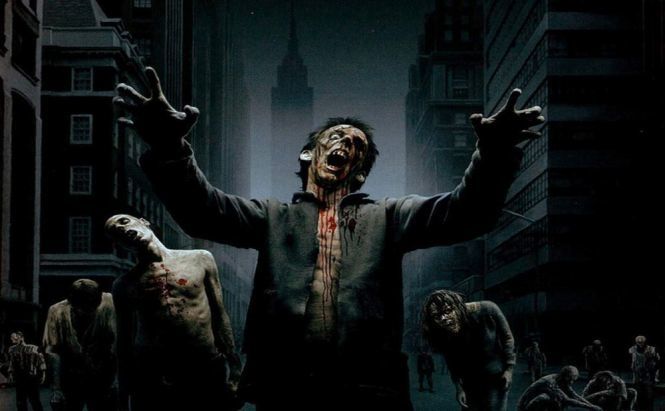 Top 10 Zombie Games for Windows
The infection rapidly spreads all across the gaming industry and zombies of all kinds crowd the space of our hard drives. Not every zombie is a living dead though, and today we would like to cast a light upon some of the darkest corners of the gaming world which these creatures inhabit. Here comes our list of top ten zombie games for Windows.
Zombies. So much glory in this word... Thanks to such titles as Night of the Living Dead, Evil Dead, Dawn of the Dead and many other "dead" and "of-the-dead" movies, a whole culture was crated around zombies back in the 80's, and now the undead are on the rise again. Though the concept transformed with time, and now most of the zombies are infected living creatures, not the resurrected corpses we used to know, they are still the mindless flesh-eating monsters we all adore. They are rapidly conquering the world, plunging their fangs not only in the movie industry, but in the game industry as well. So let's have a look at some of the most promising, iconic and popular zombie games of our time.
Disclaimer: Please, mind that the content of the videos and screenshots below may be inappropriate for certain groups of people.
10. Stubbs the Zombie in Rebel Without a Pulse
Stubbs the Zombie In Rebel Without a Pulse
Ever wanted to have an undead army to take over the world? Stubbs, the protagonist of Stubbs the Zombie is dead, stupid and absolutely cute, which makes him a perfect leader. His hunger for power can be compared only to his hunger for human brains. Stubbs the Zombie is a hilarious game with a very high replay value, so if you do not mind slightly outdated graphics, you will surely have a lot of fun throwing your body parts at humans and transforming them into your fellow zombies. The game is unique in the genre and that is why it deserves to open our list of top 10 zombie games for Windows.
9. Plants vs Zombies Series
Plants vs Zombies: Garden Warfare
Some people think that all the tower-defense rush began after the release of the first game of the Plants vs Zombie series. We can't say if it's true or not, but none of us can deny the fact that we played this hellishly addictive game at least once. And if you ever wanted to take the side of the vegetarian zombies in this war, then you may also like to check out the latest zombie game of the series called Plants vs Zombies: Garden Warfare. This popular zombie game, unlike its predecessor, is a full-featured co-op 3D shooter which is as addictive and fun as Team Fortress and rightfully deserves the 9th place on our list.
8. The Walking Dead: The Game
The Walking Dead: The Game
Like the eponymous popular zombie TV series, The Walking Dead: The Game is based on the comic book created by Robert Kirkman. Not being a game in the usual meaning, The Walking Dead is rather an exciting interactive novel with multiple minigames and twists of the plot that has a strong emphasis on human relationship. Here zombies are but a mere part of the scenery, which makes the characters adapt and show their true nature in order to survive in the world transformed by the catastrophe. This game is undoubtedly worth playing for every fan of The Walking Dead TV series, however, mind that it is not based on the TV show. If you are looking for the movie-based The Walking Dead game, then you should check out The Walking Dead: Survival Instinct by Terminal Reality Inc. However, the 8th place of our list goes to The Walking Dead by Telltale Games, as I personally find Survival Instinct dreadfully boring.
7. Deadlight
Deadlight
Developed by Tequila Works in 2012, Deadlight became a true revival of the platformer genre on PCs. This survival horror tells the story of Randall Wayne who tries to find his family in post-apocalyptic Seattle of 1986. During his journey, the protagonist should solve numerous puzzles to avoid as many zombies as possible, though if he fails, there is always a shotgun and plenty of other weapons to deal with the abominations. The game has very stylish 2.5D graphics, absolutely unique and enthralling zombie apocalypse atmosphere, superb sound effects and a plot worth a movie.
6. Dead Island
Dead Island
Dead Island is a very interesting blend of a first-person shooter and an RPG, seasoned with the spicy beach-side scenery and a co-op mode. The players have a whole island filled with various types of zombies at their disposal, a large skill tree with a number of specializations to choose from and a unique system that allows them to create their own weapons out of a pile of junk. The second part of this survival horror is yet to be released this spring and is supposed to become more dynamic and fun-filled. Check out the trailer below. Warning, the soundtrack is addictive as hell.
5) Contagion
Contagion
Monocrome LLC developed this game chiefly at its own expense and through the Kickstarter campaign. Contagion was created by gamers for gamers and features a unique system of map and scenario generation which turns every new game into an exclusive experience. The three game modes are the classic free-for-all, co-op and save-the-civilians. The gameplay blends the elements of a first person shooter and stealth action. But the coolest thing about the game, I think, is that a zombie bite actually turns the player into a zombie. Contagion proves that creating a cool zombie game doesn't always require loads of investments and that is why it deserves to open our list of top 5 zombie games for Windows. The video below will give you a better picture of the game features.
4) Dying Light
Dying Light
Techland, the team behind the first part of Dead Island, also developed Dying Light, and it's no wonder that Dying Light has much in common with the above-mentioned game. This first-person survival horror also has an RPG element and a system of weapon modification. However, this game is much more interesting in terms of combat system which concentrates on the use of various acrobatic stunts and interaction with the environment. Here zombies are clumsy and slow during the daytime, but as the sun sets, they turn into ferocious predators which are terribly difficult to escape and impossible to defeat if they gather in crowds. The game also has a vast open world which shapes depending on the actions of the player. The exciting non-linear plot, awesome atmosphere and stunning graphics make Dying Light one of the best zombie games for Windows.
3. DayZ
DayZ
I know some of you might disagree with me, as the game is still in its alpha, but I decided to give DayZ the bronze as the project is very ambitious and even somewhat psychological. DayZ is an MMO survival horror developed by Bohemia Interactive. The early access to the game is available through Steam with the final version to be released in 2016. Naturally, the events take place after the zombie apocalypse and the players need to create a new society in order to survive. When you start the game you have nothing but a flashlight on you, which makes you an easy prey for the zombies. You need to find weapons, food and friends, and exactly in this order, as anyone can blow out your brains for a bottle of water, or just for fun. BTW, the game was never meant to be PvP-oriented and the possibility to kill a different player was chiefly implemented for realism and "self defense".
2. Left 4 Dead Series
Left 4 Dead 2
A zombie game as it should be. Fun, intense, stylish, atmospheric and not cluttered with tons of features. Left 4 Dead is the best zombie multiplayer game ever released with plenty of game modes that allow you to play as a survivor or as an infected. Those who like single-player games will also fall in love with Left 4 Dead as it has plenty of single-player campaigns and thousands of fan-made scenarios all over the Internet. This is a game you will keep on your PC for a very long time as you can play it over and over again without getting bored. There is nothing better than chopping some zombie heads after a long workday and folks at Valve are experts in this matter.
1. Resident Evil aka Biohazard
Resident Evil 4
It took me very much time and coffee to decide which zombie game deserves to be the first on our list, but then I thought that it should be the most iconic zombie game ever. That is why we decided to give the 1st place to the Resident Evil series. The franchise numbers 25 different games for various platforms and 6 movies. So if you are a fan of zombie games, horror and a fine plot, Resident Evil is a must-play for you. Personally, I like the forth part of the game best, but if you are into more juicy graphics, check out Resident Evil: Revelations
Please, mind that this list includes only Windows games and that is why I didn't mention The Last of Us, which is also one of the best zombie games. So, do you agree with our list? Nominate your favorite zombie game in the comments below!