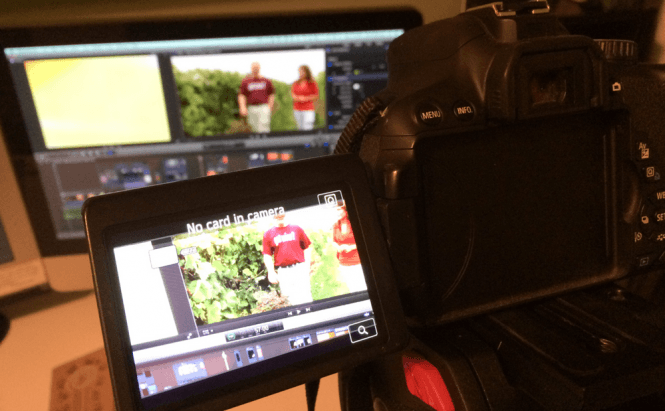 Choosing The Best Tool for Screen Video Recording
If you think that what is shown in the picture on the left is the best way to record the action on your screen, then you definitely should read this article. Screen recording is something the computer user commonly needs, e.g. for making a video tutorial (a clip that explains how to use a certain application) or to show off your gaming skills.
Our website already features an article on this topic, but I've decided to write a second a part in order to give you more options to choose from. So, here are 6 of the best screen video recording tools that I know of.
Apowersoft Screen Recorder (Free)
Apwoersoft Screen Recorder Pro
Apowersoft Screen Recorder is a handy little tool that lets you record the action on your screen. What puzzled me a bit is that there are quite a few versions of this tool: a desktop application that is free, a pro release for desktop computers which actually is a quite reliable solution, even for the more advanced users ($40), and a free online tool which uses Java applets to capture videos from your screen. This application allows you to schedule recording sessions, it can record the audio as well as the video, is capable of capturing screenshots, and the latter two versions enable you to convert the video that you create into a wide variety of other multimedia formats. Sadly, the application lacks an embedded video player, and that could turn out to be a problem.
ShareX (Free)
Sharex
ShareX is an open source tool, so if you like dabbling with the code of applications, this might be the one for you. This tool isn't really that sophisticated, but it's really cool when it comes to speed and efficiency. This application will help you capture screenshots or video recordings of your screen (no time limit), then upload them to the Internet (cloud storage, FTP, social websites, etc) and place the URL link to your fresh creation to the clipboard. Moreover, you can enforce your copyright over the published material by easily adding watermarks.
Debut Video Capture Software (Free)
VideoPad Video Editor
Debut Video Capture Software is also a decent video recording solution. With this application, you can capture the action from your full screen or from a specified area, as well as record your webcam. Another cool thing about this tool is that you can save the output files into a wide variety formats, including ones compatible with portable devices, like iPod, Xbox 360, PSP, PS3, etc. Lastly, Debut Video Capture Software will also enable you to embellish your videos with several effects and retouching options.
Open Broadcaster Software (Free)
Open Broadcaster Software
Open Broadcaster Software is another open source screen recording tool that can be very helpful as long as you don't record yourself recording until your PC crashes (like I did in the picture). A cool use of this program is for live streaming the action on your display, so your friends (or fans) can see you play in real time. If you're a programmer, you'll be delighted to know that the application comes with an API, so you will be able to develop your own plug-ins.
Adobe Captivate ($999)
Adobe Captivate
By far one of the most expensive products of its kind, Adobe Captivate is also one of the best video recorders that I've ever worked with. This application offers a wide array of features that are perfect for creating video tutorials, e-learning materials, interactive quizzes and Flash presentations. Additional features include online collaboration functions, PowerPoint presentations support, built-in animations, a powerful text-to-speech module, etc. Besides the price, the other massive downside is that this tool isn't that great when it comes to recording gameplay sessions. Adobe Captivate is a pretty needy application that hogs a lot of resources from your computer, so it won't work too well with another program that has high requirements.
Screencast-O-Matic (Free)
Screencast-O-Matic
Screencast-O-Matic is a really simple yet efficient video recording solution. The free version of the program is capable of recording up to 15-minute long videos and uploading the result to its own website or publishing it on YouTube in HD quality. Furthermore, you can also choose to save the recording as an MP4, FLV or AVI video on your computer. The premium version, which costs $15/year, removes the time restriction and adds a few extra features, such as the possibility to automatically upload the recorded videos to Google Drive or Vimeo, editing and scripting tools, etc. As far as I'm concerned, the biggest drawback of the free version is that the program automatically watermarks all your output files with its own logo.