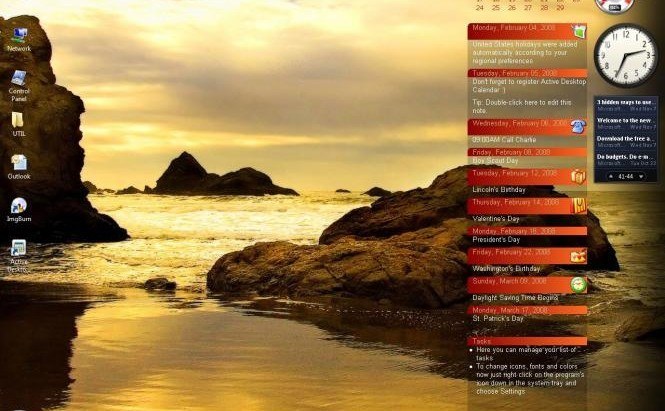 While you are awaiting your vacation
(Or how to decorate your desktop to brighten up your anticipation of holidays)
Have you noticed how long the weeks and days before your holidays usually last? You have already chosen your type of holidays, visited your travel agent, booked your flights and accommodations; you have also read all the web sites related to the place you'd like to go to, and bought all the little things you may need for your travel, but the remaining work time seems to last forever. Every morning you enter your office and feel so tired you can't work properly.
Here is a couple of nice ideas on how to put you in good spirits and make you realise that anticipating joyful events can be a joy of its own.
Suggestion №1
Use a simple but nice-looking desktop calendar (such as "Active Desktop Calendar" by XemiComputers). This allows you to organize your time and manage your pre-vacation activities.
Active Desktop Calendar
You can also set a reminder which will tell you how much time (weeks, days, hours) is left until your vacation. An easy-to-use and free "Timeleft" program by Nestersoft Inc. will help you in this case:
Timeleft
Timeleft
This countdown clock says that you've got just 16 workdays, 1 hour, 58 minutes and 41seconds left till your vacation. :),
One of the main advantages I found in this nice application is the compact size of its windows, which you can also easily resize and place anywhere according to your current desktop design.
Suggestion №2
You should really be interested in the place you're intending to go to, regardless of whether it's the first time you visit it or you have already been there. How about adding some pictures of it to your desktop to enjoy the views? Here's a couple of ways. The simplest thing to do is add your images to the standard Windows background list. But if you need more interesting features, you might want to consider downloading one of the popular specialized apps - such as "Photo Slideshow Screensaver" by Photo-Screensavers.com, for example.
Photo Slideshow Screensaver
You will see how beautiful our world may look on your local desktop. There are various display effects: Radar, Mosaic, Fade and more – they can make your virtual trip even more enjoyable.
But if you're aiming for creating a masterpiece, you should try "Screensaver Factory" by Blumentals Software. I am really impressed with its design features, especially in comparison with other software screensaver creators; for one thing, you can make your slideshow very cool with the available transition effects: horizontal or vertical, from the right or left, upward and downward, flipping, fading, zooming in or out and even showing your images on a 3D cube.
Screensaver Factory
What also looks attractive that you can add visual features like snow and falling leaves. This can make your slideshow more romantic.
Screensaver Factory
Once you have selected the pictures and the desired effects, you just add your favorite audio tracks and select the design for your screensaver's clock and calendar. Now you are done and can have some fun waiting for your vacation.
Screesaver Clock