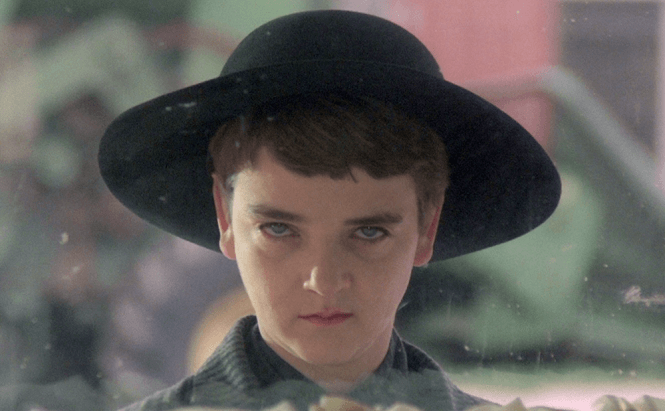 Halloween Entertainment
Happy Halloween card
When the leaves of red and gold start falling, and the nights become darker and longer, it's time to prepare for Halloween, possibly the only day of the year when our fear is our entertainment.
Halloween allows people to feel freedom; it gives them the ability to be creative without any fear of something in their everyday's life. They also make costumes to transfer themselves into the world of witches, zombies, ghosts, devils and other mystic creatures. For many of us, Halloween also remains one of the best moments of our childhood: we were trick-or-treaters, liked scaring our neighbors and collecting sweets. Maybe you can remember the crisp air, or the unforgettable taste of candy apples, or the pumpkin smashing fun and colorful pranks related to this holiday of "horror".
If you are awaiting this holiday and have a free minute, maybe some small games and screensavers can help you get into the Halloween mood.
Pumpkin Smashing is a small flash game that can be played online on the publisher's website.
The main goal of this game is to launch a pumpkin as far as possible. The start is very easy: you should just press the space bar to launch the pumpkin into the field. During this funny flight, your pumpkin will encounter many comic objects, which are divided into two categories: good (trick-o-treaters, springs, bombs) and bad (graves, and hell pits). When hitting the good things, your hero will rebound and continue its magic passing, while bad objects can stop its motion. What a pity if your pumpkin will crash by encountering a grave or falling into a pit!
Here's where mystical batbombs come to your aid. Just click on the batboms symbol to boost your distance of flight and, maybe, you will be successful enough to fly a little bit longer before you finally fall down.
At the end, you will get a window showing your main score, such as the number of plays, your total distance and the number of good objects you've hit. This gave me an idea to put up a competition among the members of my family, but that's quite another story...
This game is over because I've crashed into a grave and my gray-colored pumpkin soul is flying away.
It's almost impossible to pass this popular game nowadays. The "Angry Birds" article has already covered the game's origin, idea and gameplay. Here Rovio development team presents "A Ghastly Special Edition of Terrifying Fun!".
You will be able to launch your birds to hurt not only the light-green pigs, but also pumpkins, and even some pigs hidden inside the pumpkins! There are also two types of birds you can launch: the traditional, plumping bird and a new one – which pulverizes into three parts and crosses the sky (looking like a firework) and then falls down destroying the structures of wood and stone.
There's your typical Halloween atmosphere as well, created by black, yellow and orange colors, and funny "Angry Birds" music mixed with some spooky Halloween-related sounds.
Sadly, there is no demo or flash version of this edition yet, and you can only buy Angry Birds Halloween in the Apple Store for your iPhone or iPad. But, as the developer claims on the games' download page , the demo is coming soon.
If you are a match-three games addict, you can try playing this one. To be honest, I didn't find it exciting, although the legend of the game is mysterious, and the graphics are pretty nice. Before you start playing, you can read a story that tells you about Pumpkin Jack, who lives in a forsaken house in a dark impassable forest. He usually goes out hunting for the souls of dead people, which help him to prepare for the celebration of Halloween. You will be given a chance to help Pumpkin Jack in his task by collecting these souls, which are hidden in pumpkins. To catch them, you should match three or more pumpkins of the same color and get as many points as possible. Once the "Souls" indicator on the right is filled, you complete a level and can proceed to a new one. Your task seems easy at first, but gradually becomes more complicated as the time limit decreases and the board's appearance changes (the number of empty squares is raised). Still, the game looked very repetitive to me and I got bored after playing just a few levels.
Match-Three game
To cheer myself up, I decided to decorate my desktop with a Halloween-themed screesaver or wallpaper, but I found too many of them on the Net. It does seem possible to pick an animated picture that would suit your preferences: maybe it is an old house on a meadow full of mystical night creatures (3D Spooky Halloween Screensaver), or maybe you enjoy watching pumpkin creatures (Halloween 3D Screensaver). It is up to you which background template to select for your PC.
To wrap things up, I'd only like to wish everyone a Happy Halloween!
Halloween wallpaper sample