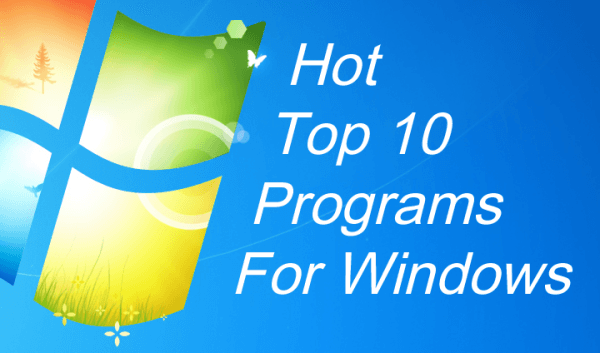 Hot Top 10 Programs for Windows
Before reading this article you might be interested in our previous must-have programs lists for the Windows XP, Windows 7 and Windows 8 operating systems.
Recently, a new feature has been added to Software Informer. Now, every registered user has an additional tab that lists recommended software. While how the list is compiled is a big secret, there are some things I can tell you about it. For instance, the more friends you make on Software Informer, the more interesting the list becomes. Please do not presuppose that the list is compiled from the most popular programs used by your friends, that is not entirely true. There are some sophisticated algorithms at work, which make sure the displayed entries are as diverse and as interesting as they can get. The truth is, the algorithm just works better when the sample is big enough - that is, you have a lot of friends. I've watched the development process closely and I can tell you that the programmers have put all of their hearts into this exciting new feature.
I encourage you to go to your profile page and check out the recommendations made for you. I am sure you will find something interesting in there. Meanwhile, over here, I will go on and share my top 10 Windows programs to have. The following list is made up of the programs I install as soon as I get Windows up and running. This list will work well for both Windows XP and Windows 7. I consider Windows Vista as a subset of Windows 7, though it came earlier than Windows 7; the point is, it is highly probable that you can run all of those programs in Vista as well.
Hot Top 10 for Windows
Total Commander is the very first application that gets on my hard drive. It makes browsing through files so much simpler! There are two panes that help you copy and move files and entire folders in just two key strokes. Let me tell you – the same task is much more complicated when you use the mouse or touch-screen inputs. The program allows me to navigate through my drives and files on them in a blink of an eye. I use the program to copy, cut, move, rename, and delete. And you would not believe how much of that I do daily. Besides, it is one of the most popular file managing programs on the market and there are a lot of plug-ins available to further extend its rich feature set.
Total Commander Main Window
AVG. The security and the integrity of the system justify the value of your computer. A virus-ridden system does not provide any value, as any input or output can be easily compromised. I used to be a hardcore Norton Antivirus fan, but there is a new sheriff in town – AVG. AVG Antivirus and Firewall does its job quite well. And best of all, it is free. The professional version unlocks a lot more features, but I rarely need them and I am fine seeing ads just to keep my computer's protection absolutely free to me.
AVG Anti-Virus Free
J.R. Media Player + iTunes are the two players you will need if you own an iDevice. J.R. Media Player is one of the best media managers I have ever used. In fact, I do not even pretend looking for a replacement anymore, I just know all of the alternatives will fail in comparison. It has a very confusing at first, but extremely convenient in the long run, interface. iTunes does not let you change as much in its interface, but you need it to sync your media library with your iDevice. J.R. Media Player can do it too, but you would not want to trust any 3rd parties with syncing your precious Apple product. J.R. Media Player is used to correct information in my MP3 files: their album art, rename the files according to the rules I specify, truncate silence at the beginning and at the end of the tracks, convert files into MP3, analyze and do many other things that make sure my music and video library is perfectly organized.
J. River Media Center
iTunes Media Center
WinRar or WinZip. Files with RAR and ZIP extensions were a common occurrence when the Internet was slow. Nowadays, those compressed archive files are replaced with download managers that support resuming and sectioning (breaking up a file into many small peaces and downloading 2-3 concurrently). At any rate, they are not completely gone yet, and you will need one of them (more likely WinRar, as it can handle ZIP files, while ZIP cannot handle RAR files) on your system just in case. On the other hand, I take it back. Total Commander can handle RAR and ZIP files right from the box, so if you have it installed, you may skip getting either of these two programs.
WinRar Main Window
WinZip
Adobe Reader. I do not have to tell you how important this package is. There are tons of documents online that are in PDF format. And sooner or later you will be asked to follow Adobe's website so you can download their Reader. Hence, do it as soon as you can – it is a large file and it will take you some time to download.
Adobe Reader Launcher
Cyberlink's Power2Go. There is a great article about Cyberlink's product that you should check out. Power2Go is what I trust to burn my CDs or DVDs, and soon BD Disks. I am yet to have one failed disk with Power2Go.
Power2Go 7 Launcher
VNC. I know a thing or two about networking and can configure my router to let the outside traffic into my home network. Hence anywhere in the world I can access my computer at home as long as I remember its IP address and it hasn't done some Windows update that turned my computer off. VNC directly connects to your computer's desktop, so it is like you are at your computer, but in a remote location. In case you cannot figure out your router, there are web services that create a secured Internet tunnel between your computer and their website. With them, you can easily access your desktop without much configuration, but you will have to pay for this with your hard earned money.
VNC Connected to Windows Vista
Media Codecs. I have a lot of friends and once in a while they are sending me awesome clips (clips they wouldn't dare to post on YouTube). I like watching them, but the problem is that my friends use different odd codecs for encoding their videos. It used to be a headache, until I came across k-Lite codec packs. With it, almost every single file that I throw at it will play. So if you are downloading a lot of movies off the Internet, then this is the package to have. Just remember to not store the downloaded package on your computer – it is better to download it over and over again because the contents are changing to keep up with the development of new codes.
uTorrent. The modern Internet is ruled by peer-to-peer networks. uTorrent is a lightweight and simply the best client to use. Its latest interface is just amazing and the program works extremely well. If you are planning on download torrent files, I would recommend this program.
uTorrent Main Window
Software Informer client. To tell you the truth, I like being informed about new versions of the software installed on my computer, and I like Software Informer client for making this process absolutely automatic. The newer versions of programs may fix some bugs or add functionality that I was longing for in some of the programs. So this is a really great tool to have in your software vault...
Software Informer Client
This was the list of top 10 packages for Windows. Since I also use Linux and Mac OS X, I will tell you about top 10 packages for those operating systems as well in my future articles. Until then, please explore your recommendations in your profiles. And be with Software Informer and stay updated!