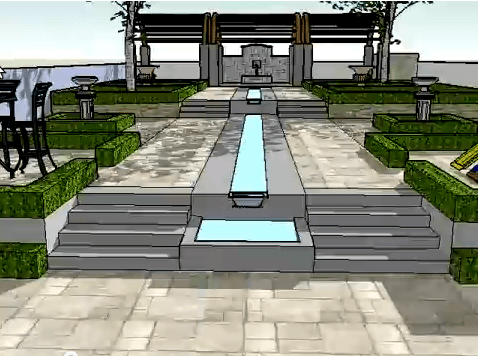 "Where flowers bloom..."
"Where flowers bloom so does hope", wrote Bird Johnson, the first Lady of the United States. Thanks to her capital beautification project, millions of flowers were planted to improve the environment conditions in Washington. Her beliefs regarding the importance of improving our living environment evoke the famous saying: "Beauty will save the world".
Everyone would like to get up every morning in a wonderful world and see beauty at home as well as outdoors. However, we shouldn't forget that all that beauty can be created not only by nature, but also with people's own hands. If you have ever tried to design your garden or even a small flower bed, you know how hard it is to experiment with your design ideas and how many factors you should allow for, the primary ones being climate conditions, plants features, the size of your ground, and its structure. Bearing in mind that your plants are living beings, which may die if you make a mistake, you have to plan in advance; and this is where modern software steps in.
One of the most popular programs for 3D design today is Google SketchUp, which attracts users by offering a freeware version and a plethora of video tutorials for basic principles of working with this application. However, in order for you to use it, you should first make all the measurements and draw up the area on paper. You also need to know the basics of working with this kind of software, so some previous experience with graphic editors is very welcome.
If you can manage all that, you may end up with a nice-looking and very detailed 3D plan of your garden-to-be, which you will be able to view from any conceivable angle, and even record the overview as a video file.
A garden design example
Unfortunately, you can't import your own photos into the program; there are no suggestions in terms of where you should place your plantings, nor any plants examples or descriptions; and the price of the Pro version – $495 USD – is pretty high. This all leads us to an idea that we need to look for something more fitting for our needs.
A Google search will fix you up with a number of web sites with lots of landscape design programs at various prices. The big question is, what do we expect from such an application and how much money are we ready to spend on it? In addition, we should understand the difference between so-called "Catalog" software with a wide assortment of planting plans and garden equipment, which is usually offered by the companies interested in your purchasing their wares, and the applications created with the sole purpose of helping you design your own yard or garden.
Looking for a program of the latter kind, you may discover that the programs at lower prices tend to offer a very limited package of features, while those which cost more can offer you a lot more abilities and, oddly enough, are often easier to use.
BBC Virtual Garden welcome page
Sadly, this program is no longer supported by the developer. In addition, you may have some difficulties with the Shockwave player settings; if you can't resolve some unknown errors, you simply won't be able to launch this tool in your browser at all.
So, are there any potent landscape design assistants?
Here is a couple of ideas.
The number-one application
Having browsed through numerous comments left by regular users, I found that one program got a lot of good feedbacks in particular – Realtime Landscaping Plus 2011 by Idea Spectrum. This software has all the possible features you may expect to see in a modern landscaping design application, including 3D design, nice-looking templates of gardens and landscapes, an image editor, importing and exporting features, a large gallery of items, with chairs, tables, pots, flowers, stairs, and even animals, etc. All these things really help you to visualize your own plot.
Flowers database with a small description of each plant and an editing menu
What is especially fascinating about this program, is that it gives you the ability to choose the age of the plants you've added. This allows you to see how your garden will look several months or years later.
Garden view
As the developers claim, the latest version of the program comes with more than 4,600 inbuilt plant options, which allows you, for instance, to see which type of climate your chosen plants are able to grow in. You won't be able to stay indifferent to the realistic shadows that your objects cast on the virtual scene: they really benefit the looks of the final rendering.
The only downside of this wonderful tool is its system requirements. You will need a very progressive and modern graphic card and at least a 1-GHz CPU (2 GHz or more recommended).
A cheaper example
In case you have a better use for your family budget in mind, you may be willing to sacrifice some features offered by expensive software suites and go with a less renowned program, e.g. 3D Garden Composer by DiComp, Inc.
The graphics here are substantially inferior to those in Realtime Landscaping Plus, but this is made up for by more than 800 included design items and a plant encyclopedia which has entries on 15,000 plants and 22,500 images of trees, shrubs, flowers, and vegetables.
Like with Realtime Landscaping Plus, you will be able to grow your virtual garden using your own photos in the photo design editor; you can also make use of handy measuring tools, add some animation effects, and even choose a season. As a result, you will get a 3D virtual tour around your garden, during which you can look into each and every corner of it and see every virtual flower you've planted.
An original photo