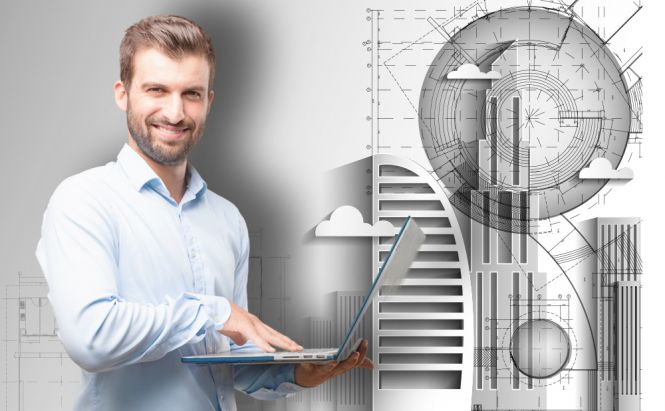 Best architecture software of 2022
3D architecture software is a crucial tool for architects, construction engineers, and builders. It helps them create 3D models of construction projects, identify design errors, and visualize building structures. However, it's pretty easy to get overwhelmed by the amount of the architecture solutions on the market, most of which offer a powerful set of drawing and modelling tools. In this article, we'll try to narrow down your options and help you pick an ideal 3D design program.
AutoCAD
AutoCad
AutoCAD has been around for a long time. It was one of the first CAD programs developed for PCs and has been a favorite among architects ever since. AutoCAD allows you to create drawings with precision in both 2D and 3D and transfer them to other software packages to collaborate with other people. The software offers a wide range of pre-built objects for walls, doors and windows, and options to combine elevations, sections and floor plans in a single project to optimize your workflows. It is also notable for having accurate measures and details and an exceptional rendering function.
Revit
Revit
Another product of Autodesk, Revit is a BIM program that allows both 2D drafting and 3D modelling, rendering, and construction. One of its key functionalities is automation that lets you access all changes made while creating your project and update them in plan, elevation and section views. In addition, the solution can be used to perform all stages required to complete your construction project. One of its most remarkable features is the collaborative aspect that lets multiple users work on the same scheme.
SketchUp
SketchUp
If you're looking for a budget-friendly yet powerful architecture design tool, you should definitely consider SketchUp. Although SketchUp lacks some features that other packages offer, it's one of the easiest architectural solutions out there and still can be used to create professional models. The software offers an extensive library with over 2 million downloadable sketches and a broad array of rendering options, including drawing, animations, and photographs. In addition, SketchUp is quite flexible and its functionality can be vastly broadened by a wide range of add-ons.
V-Ray
V-Ray
V-ray is one of the most popular solutions for visualizing 2D and 3D content. It is both a standalone module and an add-on that can be used with 3ds Max, Maya, SketchUp, and other software packages. The program provides an extensive resource library containing a large array of models and textures. The use of the V-Ray system in architecture allows you to create awesome realistic renders and view the smallest objects in images from any angle.
ArchiCAD
ArchiCAD
ArchiCAD is an architectural CAD program providing a complete set of tools for architects. It lets you create 2D drafts, build 3D models, and make high-quality and photorealistic architectural visualization. With ArchiCAD, you can create simple, realistic renderings with materials and shadows. The main advantage of ArchiCAD is the consistency relation between project elements allowing you to work with the entire project, not just individual drawings. Another key feature of the software is its flexibility in terms of personalization providing many ways to extend its functionality and automate your workflow.
In this roundup, we've featured some of the most powerful and popular 3D modelling and design programs available for architects. Each of the presented solutions has their own advantages and key features. Students and beginners tend to prefer SketchUp and ArchiCAD offering a relatively reasonable price and more flexibility while professionals often go for AutoCAD or Revit providing comprehensive sets of tools. Evaluate all the nuances of the products you're considering to find the perfect solution.