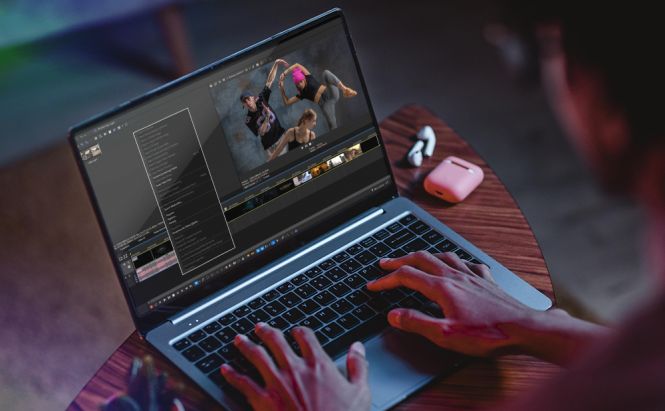 What is so special about VEGAS Pro 19?
New VEGAS Pro 19 has arrived this year. The very first Vegas software, developed by Sonic Foundry in 1999, was an audio-only rescaling and resampling editor. The software has gone a long way and it is a feature-rich non-linear video editing tool nowadays. VEGAS Pro 19 offers Vegas Edit, Vegas Pro, and Vegas Post packages. From now on, users can choose a package depending on their aims.
All-in-one video toolset
Vegas Pro 19 enables you to create unique content, edit your audio and video and tell your own stories. It boasts an improved user interface and provides a wide range of tools for motion graphics, image compositing and live streaming. You can add interesting visual effects and numerous filters, perform AI-assisted edits, take control over precise colour grading, and make use of Audio Design options.
What's new in VEGAS Pro 19?
Improved workflow and intuitive colour-grading interface;

Automatic Scene Detection to iden

tify scene breaks and generate splits and keyframes;

Zoom and Upscale plugin to convert

SD and HD to 4K footage;

40 professional LUT presets as well as Range-limited Color Wheels to adjust colour grading;

Fast access to royalty-free stock footage that you can directly import to your project;

Hub Window

to access tutorials and cloud storage;
Hub Mobile app to upload content from your iOS and Android device;

Hub Explorer Window to sync cloud storage with local drives;

Multilingual text-to-speech options to create natural-sounding voices and add automatic translations.
This updated version also supports Blackmagic RAW codecs and offers Timecode Tagging features to align notes on the timeline, as well as Note Colour and Label Tagging options to collaborate with colleagues and write comments.
VEGAS Edit
This package is designed for beginners, it costs $12.99 per month and provides a full-featured 30-day trial. VEGAS Edit lets you create tutorials and video reviews and share them on Twitch, Vimeo, and YouTube. The subscription includes 20 GB of cloud storage and 20 royalty-free stock video and audio assets.
Colour correction
Besides, VEGAS Edit allows for processing a number of formats, syncing a storyboard and timeline, detecting scenes and editing events. Moreover, the package offers 390 effects, built-in colour filters, motion tracking and bézier masking options, 2D and 3D transitions, text animation, and so on. Also, you can capture live streamings, stabilize your video, remove video noise as well as apply the multichannel mixer and equalization tools.
VEGAS Pro
The VEGAS Pro package is best suited for professionals. The subscription price is $15.99 per month, there's a trial available for 30 days. It allows you to create professional movies and live event streamings. This software provides 50 GB of cloud storage, unlimited access to royalty-free stock HD content, and text-to-speech capabilities. Furthermore, you can chroma key footage within the Boris FX Primatte Studio.
Enhancing video
Moreover, VEGAS Pro offers a dynamic graphics collection, nested timelines, track adjustments, RGB colour curves, a wide range of filters, titles and transitions, and so on. This package lets you process such professional file formats, as HEVC, AVCHD, XDCAM, RED RAW, and XAVC, perform audio recording, mastering and recovering, and distribute outputs to social media and video-hosing websites.
VEGAS Post
It offers high-end audio and video tools for full-stack production. VEGAS Post costs $29.99 per month, you can use the trial version for 30 days. Paying for this subscription, you get 100 GB of cloud storage, unlimited access to royalty-free 4k stock content, 800 video VEGAS effects & filters, layer compositing tools, automated chroma keying, etc. Also, you can create and edit VEGAS streams, easily switch between cameras and remote presenters, and share output results on social media and broadcasting services.
Video editing
Using this package, you can directly open videos from the timeline in VEGAS Effects, export single frames to VEGAS Image and compose music with SOUND FORGE Audio Studio. Additionally, transform RAW footage into HDR scenes, build fluid motion animations, apply multi-layer compositing and keyframe animation tools, and generate particles and 3D models. Vegas Post includes 3D camera tracking, lighting and fire effects, as well as timeline cache and proxy support.
Select a package that best suits your needs and create unique masterpieces to impress your followers on popular social media.