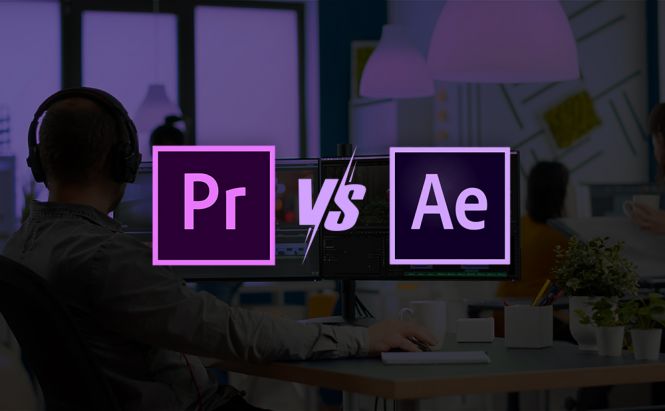 Premiere Pro or After Effects: Which Should You Choose?
Video editing is great. What makes it even greater is the fact that there is an abundance of software that can help you turn any casual video clip into a work of art. At the same time you should know that despite some obvious functional overlap, different programs are optimized for different parts of the post-production process. Adobe Premiere Pro and Adobe After Effects are probably the most well-known examples of this matter. The differences between these two are apparent to anyone who has used them before, but if you're new to Adobe software, it can be quite hard to determine which one you'd need to learn for your post-production task. We're going to take a closer look at each.
When to use Adobe Premiere Pro
Timeline editing
With Premiere Pro you can split each of your videos into several pieces and then drag and drop them into your desired sequence. Even though the program itself is really easy to pick up even for beginners, many professionals use it to create outstanding visual content, so it's not just about cutting and sequencing.
Color correction and brightness adjustment
Due to to a user-friendly set of professional tools including color grading and correction as well as brightness and contrast tune-up, you can easily improve any frame and even make it look like a movie scene.
Audio editing
A few simple features allow you to add music and sound effects to your video and remove the original sound if necessary. Besides, you can turn up the volume, add a little bit of echo and reverb to the audio if you want and do some more basic things.
When to use Adobe After Effects
Special effects
With After Effects you're able to add one or a few special effects to your videos. Whether it has to be an explosion in a battle scene or some kind of magical spells, all you need to do is add post-production lighting effects. Of course there is more than just that. After Effects is a perfect tool to make the impossible happen, at least in videos. Many Hollywood movies were actually edited in this program.
Animation and CGI
Most designers and animators use After Effects to create 2D and 3D animations with vectors. You may also add photographs to your animations to generate all sorts of motion graphics.
As you can see, there are indeed a few noticeable differences between the two. While Premiere Pro is intended for basic editing, After Effects can definitely be called the industry standard for creating impressive motion graphics and special effects. The former would be a great choice for beginners and amateur editors, whilst the latter is one of the best tools for professionals.