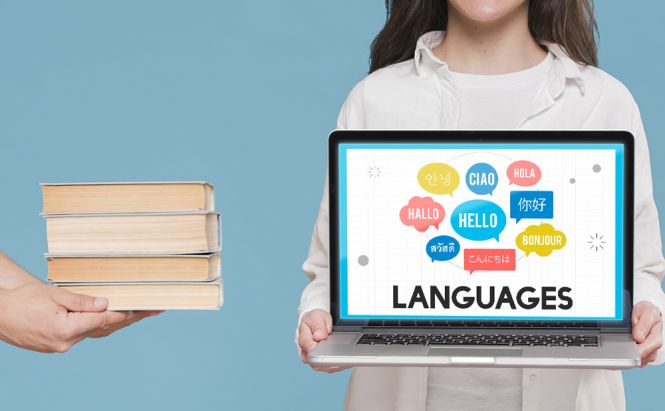 Best language learning software
There's a whole bunch of reasons to learn a new language like making traveling more enjoyable, improving your memory and employment opportunities, or personal development. Popular programs for language learners offer a broad array of options covering practically any language in the world and suitable for all ages and language levels. We've wrapped up the best 5 apps of 2022.
DuoLingo
Languages: 40 languages, 38 of which are for English speakers.
Price: Free
Best for: On-the-go learners
DuoLingo makes learning a language fun by offering game-like exercises including reading, writing, listening and speaking tasks. The app tracks your progress and lets you "master" a skill by reaching a higher level, but it must be reviewed from time to time otherwise it gets "shattered". One of the app's most notable features is a chat bot that generates simulated conversations where you can test what you've learned. Moreover, DuoLingo has a great feature called streak that motivates you to complete lessons every day.
Rosetta Stone
Languages: 25 languages
Price: Starting from $35.97
Best for: Complete immersion into a new language, collaborative learning
When it comes to language learning programs, Rosetta Stone is one of the most popular choices. The program boasts a set of several modes and requires just a few minutes of learning a day. One of the top features of Rosetta Stone is the simulation of a real-life immersion experience: the program plays audio and displays images to teach you words and phrases. Another great option is its speech recognition technology to check your pronunciation.
Babbel
Languages: Spanish, English, German, Italian, French, Portuguese, Swedish, Turkish, Dutch, Polish, Indonesian, Norwegian, Danish, Russian
Price: Starting from $12.95 per month
Best for: Individual courses and specific topics
Babbel stands out for offering tons of content which it breaks into personalized lessons. Each of them contains interactive elements and shows you different variations of a word or phrase as well as images. You will see the new words you're learning used in casual conversations and listen to them. The program will help you improve your pronunciation using speech-recognition technology. It should also be mentioned that lessons are created by in-house linguists.
Fluenz
Languages: Spanish, French, Italian, German, Mandarin, Portuguese
Price: Starting from $177
Best for: Face-to-face learners and stone-cold beginners
Fluenz lets you learn a language by watching instruction videos that teach you new words and explain grammar. The program takes a real world approach to learning by prioritizing words used in everyday speech and it allows you to back up or move forward in the learning. Fluenz skillfully combines listening, reading, speaking, and writing and it's a great choice if you're looking for a program that explains how the language actually works.
Memrise
Languages: 100 + languages and dialects
Price: Free
Best for: Beginners and those who want to learn specific vocabulary
Memrise is especially handy for those seeking a simple way to memorize language vocabulary, but it isn't limited to flashcards, essential phrases and quizzes. The solution offers a variety of games and videos featuring native speakers expressing different phrases in conversations. Moreover, it allows you to interact with the chatbots where you need to pick words from a list to create sentences for a simulated text-based conversation.
These language-learning programs offer lessons to help you build your vocabulary, improve your grammar skills, and become fluent in speaking the target language. Have your pick from these most popular tools to speed your path towards proficiency.