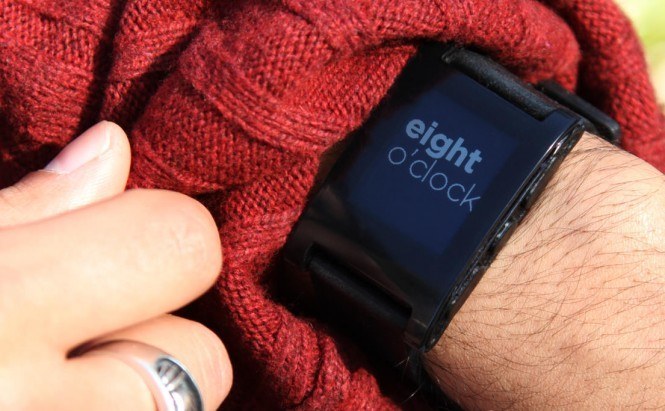 Smartwatches: Google and Apple
The new technology tends to come in style lately but is awaited to be functional at the same time. It also tends to beget physically smaller devices and is now suggesting that a smart watch is possible. I'm sure most of us could imagine it only as a sort of thing a spy possesses on secret missions, say, a decade ago. In the meantime, however, almost nothing can imress us, therefore, such an attribute has to really bring its «A» game. Otherwise it might dissolve in the ocean of forgotten novelties, following the netbook's fate.
Market and the rush among big companies
The definition of a smartwatch does not have strict frames, and any attempt to add a couple of features to the average watch, calling it «smart» afterwards, can be quite fairly made. But would it hit the smartphone market? Most certainly not. A smartwatch implies compatibility with a smartphone and the functionality of one. It should be able to perform most of the tasks a smartphone can, so that it could later on inherit some of them, reducing the obligatoriness to reach for your phone every time you need to make a petty use of it. Of course, some people would like the smartwatch to completely replace the smartphone, but wouldn't it be inconvinient, for example, to read on such a small screen?
That is the sort of gadget Apple and Google are rumoured to be developing. They are not the only ones, but they definetely are obliged to come up with the most elaborate variation of the product in the eyes of their numerous fans. The potential market has already been evaluated in billions of dollars, so why wouldn't Apple and Google compete for that? Even though neither Google nor Apple has confirmed their attempts to produce a smartwatch, Apple's hiring statistic, for example, hints us to believe that. They now have more than 600 openings in their hardware engineering group alone. Apple also filed 79 patents on smartwatch technology. As for Google, there has been an ongoing debate whether they are going to stick to their Google Glass technologies or use the smartwatch market opportunity first. No definite answers yet.
Why wait? Pebble
While the market giants are supposedly trying to develop the product, four guys from India have already created a full-featured Pebble smartwatch working under Android OS that can call, receive emails and Facebook messages, as well as display who is calling. It also has a built-in GPS navigation system, music controlling option, and, amazingly, a camera. Their Androidly website is taking pre-orders now and the guys are trying to exploit their chance to the maximum before the giants take over.
Expectations
Various rumors and speculations have been surrounding the topic of potentially upcoming smartwatch gadgets from Google and Apple. It seems like these companies don't even have to announce any products — ardent fans are able to come up with ideas of what they want to see on their own. Such a scheme is almost ideal: potential buyers proclaim the terms, companies develop and release the product, enourmosly long queues form up in front of stores from the early morning of the first sale day, ensuring huge profits. Oh, wait, these last things were already happening for the last decade of Apple's «reincarnation». And as far as I'm concerned customers didn't dictate the rules — companies did. And part of the beauty, or just a well-thought marketing ploy, was, of course, secrets and riddles accompanying new gadget features. We might guess and dream about what it would look like, or how it would function, but the truth will probably be lying no way near. These companies have always been trying to top customers expectations with their new products, but if you want to see a time-travel machine placed on your wrist under Android or iOS then prepare to be disappointed. Although it is the 21st century, there still are limits to what human mind can objectify into the real world from a bare idea.
Sony Smartwatch
Sony company must be afflicting now since they already have smartwatches on the market. Not only was Sony SmartWatch badly received, it was strongly critisized and, for sure, wasn't a «bomb» marking the new era of smartwatch rush. The second version of Sony Smartwatch came around and, unfortunately, didn't change the attitude among customers. It is now considered to be more of an expensive toy rather than an actual must-have gadget with unique and useful features. It runs on Android operating system, has a 1.3'' OLED display with 128x128 resolution, 65k (16 bit) colour pallete, and 3-4 days of typical usage battery life. You are able to read all your latest text messages and emails, Facebook and Twitter updates and control the music on your phone. It is dust and splash resistant but not waterproof. If we assume that companies only release the products that they find ideal, than that's what the wildest dream of a smartwatch looks like according to Sony. Turns out, not a lot of people share that dream.
Well, what do WE do?
As people say, expectation is the mother of disappointment. There is every reason to believe that Apple and Google will do the best they can, if they decide to launch smartwatches. Until that, let us stay calm and just wait to see what happens. Or try the Pebble smartwatch.