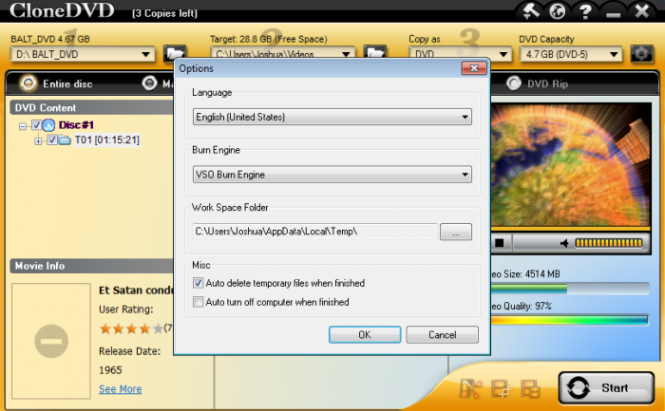 Programs For Ripping Your DVD Collection
I am a proud owner of a SMART Samsung TV. I love it so much, especially the fact that it comes with three USB ports, wired and wireless Internet access and ability to play back every single video file I've thrown at it to date from an external hard drive: mkv (Matroska), avi, mp4. The TV automatically up-converts any video to 1080p – so even downloaded TV shows look amazing on the screen. I rarely complain about the quality of the video, as long as it is better than a pirated cam-recorded version of some new movie – I admit, I've downloaded one to watch a movie once, but the quality was so bad that I ended up going to watch it at the theater, anyway. I like watching movies on my TV, but recently my DVD player broke: a friend of mine 'accidentally' washed the entire player in his drink (we drink from very big glasses, like the characters in Cougar Town). This accident made me think.
I have an impressive DVD collection, but it is a hassle to go through all of those discs just to pick a movie for the night. There's got to be an easier way! And there is. I can rip all of my movies, put them on the external hard drive, hook up that drive to my router and enjoy movies in my bedroom or living room, if I want, when I want, without any extra effort. All of my dusty DVDs will then be wrapped up and go to my storage. I will still need them around just to prove that I ripped them for personal use and I do own them; so suck it, DMCA.
There are a lot of programs on the market that let you rip a DVD and immediately convert it into a single file with closed captions and multiple audio streams. But I've always believed that a gadget should come with only one purpose: a toilet with a CPU is just asking for trouble. Hence, I use one program for ripping a disc, and another program for converting it. This way I can always choose a different ripper or converter.
Windows.
DVD Shrink is by far my favorite program in this category. It is free, highly functional, and mysterious – the official webpage advises you to search and download the program from elsewhere. The program was so good that a DMCA complaint was filed and the developers had to remove the program's download link. DVD Shrink's latest build is dated 2004, but even 7 years later many people are still using it – it is that simple and good, I repeat.
DVD Shrink
AnyDVD is a program that is almost required when you are ripping DVDs. The program is not intended for ripping DVDs per se, but can unlock them so you can use another program to rip them. You can try the program for 21 days before you have to purchase a license. The program supports BD, HD, and 3D!
AnyDVD Settings Window
CloneDVD is also a functional alternative for ripping discs, but it is somewhat slow, in my opinion. It has a very simplistic interface, meaning it was designed for n00bs (people who say they do not know how to operate a computer). If the program had hands, it would go as far as walk the user through the settings. I mean, it is extremely easy to use, but it costs money.
CloneDVD Main Interface
DVDFab also costs money; it is heavily advertised all over the Web, but I wasn't much impressed with it. It does have some cute interface; it can have the job done, but it is not a Windows-native application as it uses QT for its interface. In short, I was not impressed.
dvdFab 8
Finally, Handbrake. An open-source, free advanced program for ripping and converting video discs. All the options and settings will overwhelm a regular PC user. But if you feel comfortable using the computer and know your stuff, this program is for you.
Handbrake Main Interface
There are a lot of other programs that are not mentioned on this list. Some of the shareware developers that come to my mind are: WinX, Wondershare, ImTOO, Xilisoft, and Aimersoft. But there is an endless number of freeware applications somewhere on the Net, so go ahead and Google them up.
Linux.
Dvd::rip is my program of choice when I am on Linux. Easy to use, cute, functional. Just like anything in Linux, it requires some computer expertise. Back in the days, this was the only program I used to copy DVDs with great output quality.
dvd::rip In Action
Thoggen is for those who know nothing about computers, but for some reason are using Linux. However, it saves the entire title into one file with the .ogv extension. I assume this is the video extension for the OGG container. Most people will find it problematic to play on anything other than a PC, however.
thoggen Main Window
I gave this program a try, but never used it; however, it is worth mentioning. AcidRip has advanced options, is fairly easy to use, but I've never enjoyed its output, even though I'm not a picky person. I think I never had the time and patience to try all the options and all the settings to find the perfect set; maybe you will find the program the best you've ever used. I haven't.
acidrip's Main Window
K9Copy is a freeware app for Linux. Simplistic interface, just pick an option for output and forget about it; the program will do the rest. Never really used it as DVD::rip was all I ever needed.
k9Copy's Project Window
Mac OS X.
Handbrake, being open source, is also offered for Mac. It may require a program that unlocks DVDs - like AnyDVD for Windows, only for Macs.
And I'd like to finish off with the software that is heavily advertised but has a hilarious name – MacTheRipper. Unfortunately, Mac Informer does not have any information about the program and probably will never have due to the official site being shut down for to legal reasons. I read only good things about the program, so just like with DVD Shrink – find a download and try it out.
---
As you can tell from this article, my two favorite programs are DVD Shrink for Windows and dvd::rip for Linux. Handbrake, however, is probably the most fitting program for most people who are interested in ripping their DVD or HD collection. I wouldn't use Macs to rip DVDs – it just feels wrong for some reason. So hope this helps you a bit... as far as the list of the program you ought to try for ripping goes. As for how to rip a DVD: Google will help.