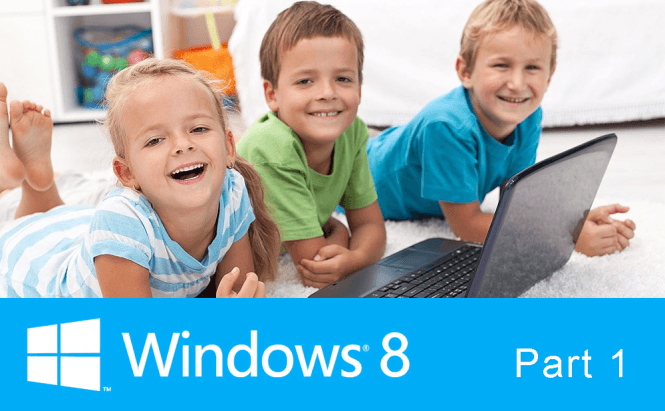 Parental Control in Windows 8. Part 1
Scantily clad ladies (if at all), explicit language, blood and violence. This all is just as big a part of the Internet as pictures of My Little Pony and cat videos. However, unlike the ubiquitous cutie kittens, the darker side of the Web is not what you would like your kid to encounter in their tender age. With this in mind, family safety features can come in really handy if you want to protect your child from the pernicious influence of the Internet. Windows 8 offers you a wide range of tools for this purpose.
Why You Need It
There is this old joke about a guy chatting on the Web for the first time in his life. He's all happy and curious and the first phrase he types goes like this, 'Hi, everyone! The name's Pete and this is the first time I've chatted on the Internet!'
'You're a stupid jerk, Pete.'
'Why on earth am I a jerk?!'
'Welcome to the Internet, Pete.'
This chatroom talk pretty much sums up what the Internet is. The opportunities it opens up for us are enormous, the new communicative and social horizons to explore on the Web exceed any imagination. Still, any time you launch your web browser, you set out on a perilous journey, trying to sail through Scylla and Charybdis of adult content and 'explicit portrayals of violence.' It's not surprising that quite often your Internet experience can derail into something completely unexpected with you taking a panic flight from an avalanche of NSFW content. You won't believe how difficult it may be to make off when terabytes and terabytes of shock pictures and adult videos are close on your heels. It is even more so for a kid, who has little idea about the good and evil and whose views of life have not gotten any distinct shape yet. For some of us it can serve as the ultimate argument to take the responsibility for our kids and define how long they can use their computer and what they can visit on the Web.
Where You Can Find It
The parental controls were a proper headache in the previous Windows versions. Honestly speaking, almost everything was a headache in the previous versions and a good part of it still is in Windows 8. Anyway, at least the parental controls, renamed into 'Family Safety', have been done right this time. Microsoft has left nearly all child control options intact, the only thing really changed is the way you can find them: now all you need to do is type 'family' in the Search box and tap the Settings section. The Family Safety icon should appear in the left half of your screen: just click it and the respective Control Panel section will open.
User Settings in the Family Safety Options
When you're there, the next step will be to activate it for your kid's Windows account. If they already have one, make sure they don't have the administrator privileges: the Family Safety restrictions can't be imposed on Administrator accounts. A better way will be to set up a new standard account for your kid by selecting New User Account in the Family Safety window and checking 'Is this a child's account?' box. After that, you'll need to choose between creating a Microsoft and a local account for your kid; the account type doesn't really affect the implementation of Family Safety policies.
'Is this a child's account' Checkbox
How You Can Manage It
The parental controls in Windows 8 boil down to 4 settings types: Web filtering, time limits, app filters, and game restrictions. Let's look at each of them closer.
1) Web Filtering
These settings allow you to have a full control over which sites your kids can browse on the Internet. There are four restriction levels, from viewing only the sites you have included into the allow list to merely warning the kid the site he or she is going to open contains adult content.
The Web Restrictions Options
The allow list is perhaps the most important feature here as it can help you to set up the viewing restrictions more flexibly. So, for example, you can choose the Online communcation restriction level. It essentially means that your child can view all types of sites, including the social platforms like Facebook or Google+. But as you are an avid hater of Mark Zuckerberg and believe that Facebook is a brood of Satan, so you go to Family Safety → User Settings → Web Filtering → Web Restrictions and open the allow list. There you add facebook.com to the blocked sites, so your kids won't be able to reach it even though all other social networks will be still available for them.
Another useful option is blocking all file downloads in your kids' accounts. This way you'll make sure they won't get something indecent onto their computer or download an infected file from some dubious webpage. Still, it may cause some incovenience, as sometimes kids need to download a file, say, for school. It would certainly not feel great if your daughter called you in the middle of a party and told you she needs some very important file downloaded for tomorrow's school presentation and she needs it 'right NOW.' So better give it a thought before activating this option.
However, your kid can still visit a blocked site: when opening it, they will be told by the system the site is blocked, and offered to ask permission from a parent, i.e. you. You can grant the permission by typing in the administrator's password or, if you're using a Microsoft account, by responding to the request on the Family Safety website.
Check Software Informer for more tips about Family Safety in Windows 8!