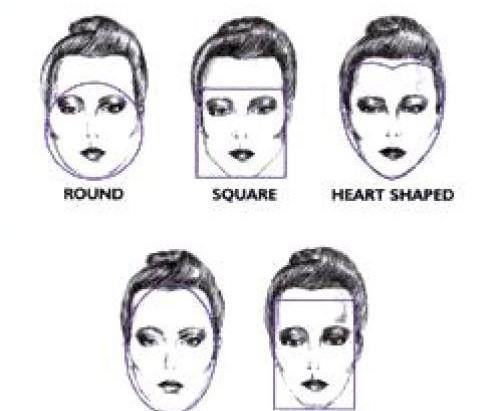 Getting a new look is no longer a nerve-wracking experience
It is not an easy task to find the hairstyle that will look best on you: the one that matches your personal features, such as your face shape (oval, long, round, triangle or heart-shaped etc.), complexion, hair type (is your hair naturally straight, wavy, curly or kinky? Is your hair texture fine, medium or thick?) - these are the main factors that contribute to choosing which hairstyle can really be called yours.
If you fail to choose a right hairstyle for the face shape of yours, the result may be a disaster. The matter is that there are hair-styles that make a round face more plump or visually intensify the length of a long face, for example. If you happen to have a non-standard oval face (oval faces in general being considered universal, standard for any haircut), then it may be important for you to smoothen the irregular features of your face with a hairdo. So your face shape is the starting point to choosing a new hair style.
Face shapes
It's also important to keep in mind that just because a particular haircut looks wonderful on Jessica Alba, it won't necessarily suit you as well.
Beauty Studio - Hair Master will let you have an unbiased look at your appearance: it will allow you to change the color of your hair and pick a haircut with no risk for your current looks.
First of all, the program lets you create your own detailed profile, taking into consideration all the aspects of your appearance mentioned earlier. After that it will give you personal beauty recommendations on the haircut and hair color that it expects to suit you best. Making a profile will also come in handy when you're styling: the tool will suggest filtering the haircuts according to your profile data, which will make choosing a fitting one easier.
Your personal beauty recommendations
There are three pictures included in the program by default: two women and one man; you can experiment on these pictures and see how the program changes the way those people look. Apart from the natural properties (face shape, hair texture, your height etc.), you can also make a choice of an occasion: wedding, party, everyday style – in case you're looking for a particular style.
Choose the preferences
Various accessories (glasses, ear-rings, neck-laces and others) are also at your disposal.
Choose your accessories
Once you have determined the intended hairstyle, you can modify the result with a comb and scissors, add color accents onto your hair (lighten or darken some strands of hair); and choose some effects for your picture, such as greyscale, glitter, or sharpen - which are, to my mind, are not of much use, considering what the tool is all about.
Finally, there is a chance to print the output picture and take it to a hairdresser – then the fate of your haircut will fall in the hands of the hair master of your choice.
So, to put it short, the essence of the software is in that it allows you to upload your own picture and try on the suggested haircuts, brush your hair – all with the possibility of reverting the changes, which can't be said about similar experiments in a real hairdressing salon.
And now the time has come to upset you a bit, as the trial version of the program doesn't let you upload your own pictures at all; this feature is only offered in the full, licensed version of the program. So a non-registered version serves just as a lure for those eager to change their looks; and this is quite understandable from the developers' point of view.