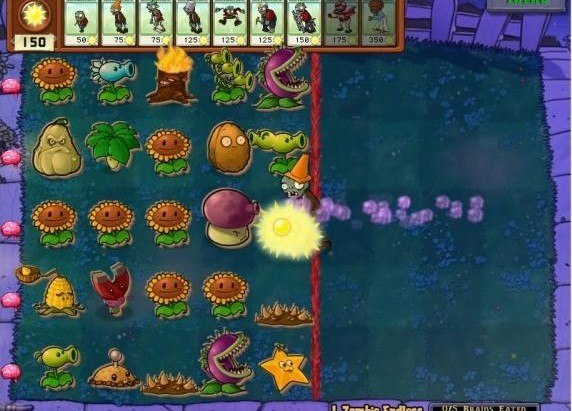 Plants vs Zombies: Totally Zombifying
The news about the acquisition of the popular casual games developer PopCap by the mainstream publisher EA Games made PopCap's admirers feel anxious about the company's future. PopCap may keep on kidding that EA Games will be renamed into Poptronic Arts and that some of their games will be given new names like Sim Zuma: The SwampLife Edition and Bejeweled Battlefield Blitz, but the fact is that there are still only vague guesses of what these global changes will actually mean for the company. PopCap's fans' opinions are quite ambiguous. Some are full of enthusiasm waiting for even bigger projects, others are skeptical, predicting the shutdown of services and the end to creativity the PopCap games are famous for. Digesting these facts I decided to look back at the most popular games PopCap developed to remember their best releases before they've joined "the dark side".
Among the most popular PopCap's projects are imperishable Bejeweled, time-killing Zuma, educational Bookworm, coloured Peggle and fluffy Chuzzle. But, to my mind, the gem of PopCap's collection is incomparable Plants vs Zombies, as I clearly remember the day I discovered this game and it just ate my brains.
It Looks Like The Zombies Have Just Eaten Your Brains
The game was released in 2009 and was accepted so positively that since that time every man and his dog had time to play it and to give it a high appraisal. So what is it that makes this game so highly remarkable? As in any casual game its rules are quite simple, so they are easy to learn. Still, the game stands out for having a great variety of characters and for its exceptional originality and tremendous sense of humour.
Actually, the game is a combination of adventure, puzzle and survival modes. The action takes place in the front yard , the backyard and, and on the rooftop of your house in the game. You find yourself in the position when you have to defend your own house and your own brains from an approaching massive hoard of zombies. Your only weapon against them is a diverse variety of plants. As you keep completing the levels, more and more new mini-games, puzzles and survival modes are unlocked. One of the final level to open is the most enthralling, endless survival mode. There you will have to use all of your acquired skills and the whole arsenal of plants to stop an unceasing wave of zombies for as long as you can. In one of the puzzles in the game, "I, zombie", you will be put in zombie's shoes and will have a rare opportunity to experience the dire life of a zombie. Mini-games will let you play a game of bowling and knock down a number of zombie-pins or acquire your own zombiquarium full of snorkeling zombies.
Feel Yourself Like A Zombie In "I, Zombie"
It's BOWLING TIIIIMMEEE!
Zen garden will allow you to enjoy gardening plants without battling anyone, and Zombatar will help you to create your own zombie and use the image as a profile picture for any social network.
Enjoy The Process Of Gardening In Zen Garden
Create Your Own Zombie With Zombatar!
Everything about Plants vs Zombies is full of joyful creativity: it's in your neighbour Crazy Dave's personality, it's in that classic zombie font and colour of the inscription "The Zombies Ate Your Brains", it's in the way every plant and zombie is described in the almanac, in the notes zombies leave for you on the lawn and in that adorable way the zombies keep moaning and saying "brains".
Crazy Dave's Shop
A Note The Zombies Left On Your Lawn
Once installed, Plants vs Zombies never leaves my computer's hard drive as I can't resist playing a level or two from time to time. I don't know whether PopCap is able to release a game somehow similar in awesomeness to Plants vs Zombies or whether this bargain with EA games will let them have access to richer resources and develop a larger project, but I surely belong to the group of fans who impatiently anticipate a sequel to the game. The only question is whether it will be as ingenious and ludicrously amusing as the original.