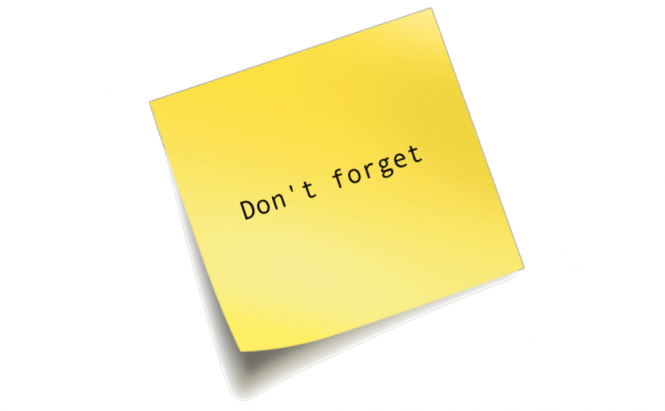 Don't Forget!
For some people it is easy to be organized, but some do have a problem with this task. You can use diary, organizer or sticky notes to remember important information. And imagine if you don't like pens, pencils or colorful pieces of paper on your computer desk. It is possible, you might be tired of all the sticky notes at your working space. There are plenty of options to keep yourself organized with very little effort. You can type everything in a text file or use specialized software.
1. Stickies
stickies
It is a digital sticky note. To make a new digital sticky note is easy as a regular one you just need double-click on Stickies icon in the system tray. The sticky note can be customized easily if you right click on it. Copy and paste notes as in a document file. You can search for a particular word by hitting the right button of your mouse and choosing Google or Yahoo search. You can change font and background color, font size and cases; choose font style and highlight the text. Amazing, but you can even set the paragraph. There is an option to split your sticky notes into the categories.
st
Notes can be attached to the program window or web site. Hot keys, window size and appearance, alerts and more can be customized according to your needs. By using network connection you can share notes with colleagues and friends. Sticky notes can be exported to a removable media and transferred to another computer. Lock the text, so nothing can be accidently deleted. Stickies is very light on your system.
Conclusion: design is well done. Program is easy to use. It is free.
Freebie Notes Note
Freebie Notes is an efficient way to keep the information on the screen. This program is a great alternative to paper notes. It takes just a few seconds to create a new digital sticky note. You can set the size and the color of the notes. Alarm with or without sound also can be set. It comes in very handy when you need to remember somebody's birthday or anniversary. Freebie Notes will not allow you to forget the important event. Alarm offers a great choice of repeat periods: day, week, month and year. You can also choose other option and set your own timing.
Freebie Notes Settings
If you have an idea just click on the note and add the text. The last modification date and time is clearly seen on the note. If the note window is not active it becomes translucent, so it doesn't distract you. The number of the notes can be unlimited; the VIP status can be assign to the note.
Some advanced features require one-time payment. However, Freebie Notes is a good tool to consolidate the information inside a convenient interface.
Conclusion: the application does well what it is made for.
3. MoRUN.net Sticky Notes Lite
MoRUN.net Sticky Notes Lite
It is a freeware program for keeping the brief information on the screen of your computer. Digital sticky note is created by double clicking on the system tray icon. What you need to do is just to write down the outline and fill the note with text. Actually, you can also import the txt file into the note. There is an option to print the note.
If you right click on the note you can edit the title and set font, background and paragraph. Priority and transparency can be customized as well. On the note itself you can see the time stamp and the date when it was created or modified the last time. It is easy to remove note with only one click. With this application the information you need at home or office will not get lost! It automatically saves the text while typing.
The cool feature is the opportunity to send the notes to your work colleagues over the Internet or LAN. It will appear on their computer desktop. It is a great way to remind your colleague about important events.
Conclusion: MoRUN.net Sticky Notes Lite helps you to manage working hours in the most efficient way.
Organizing yourself is a hard task to accomplish. Many people use sticky notes to simplify the daily routine. You can use sticky notes made out of paper, or you can use digital sticky notes and save some trees. Everybody chooses what he needs and wants. The main purpose of the digital notes is to keep all the information in one place. You can access easily the information, copy and paste it. The information is clear and visible on the desktop. It is not possible to loose the digital note in a stack of other papers. Go ahead, organize yourself!