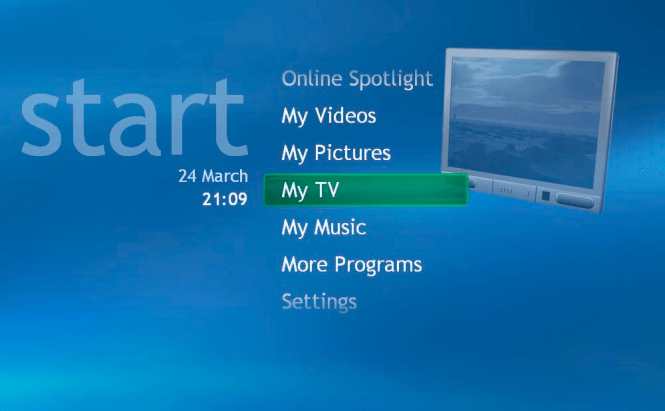 Media Centers, Part III: Windows Media Center
Here's the final piece of the three-part article devoted to media centers. In the first part, I talked about an open-source Xbox Media Center. It is absolutely free and runs on Windows, Mac OS, and Linux systems. The second part was about J. River Media Center. You can buy it for 50 dollars and it can only run on Windows operating system, but the application is great for organizing your media files and files' meta information. This part is about Windows Media Center application and its benefits to you.
History.
In 2001 Microsoft released Windows XP that supported new hardware, including faster processors and better graphic cards. Similarly, the internet access speeds were growing fast, allowing a lot more people sharing their video and audio content over the net. DVDs and TV tuner cards is what pushed the companies and people around the world to develop various media centers. It is economically cheaper to get a computer with a DVD drive and a TV tuner card than just a standalone DVD player back then. As more people were using their computers for media playback, Microsoft released its Windows XP Media Center Edition (MCE). This operating system could only be installed on MCE certified computers – those included computers with sufficient processing power, ram, and a TV-tuner card. The Media Center branded machines were coming with a remote control that has a green button with the windows logo on it for accessing media center's main menu options. Currently, the media center exists as an application and is included in some versions of Windows Vista and 7 for free.
Computers.
The Windows Media Center is designed to execute only on machines running XP, Vista and Windows 7 operating systems. The earlier versions of the application were built in a special distributive of Windows XP installation, called Windows XP Media Center Edition (MCE). In short, you would have to install a special version of the Windows XP to be able to use Media Center. It could not be downloaded.
Windows Media Center is included in Vista's Home Premium and Ultimate versions and in all versions of Windows 7, except for Starter and Home Basic. The latest version of the application does not require computers to have TV-tuner card or a remote control sensor but the machine has to have a decent video card.
Main Menu.
Extras - full screen games and widgets.
Pictures + Videos – includes picture and video libraries.
Music – audio library.
Movies – plays DVDs or accesses movie library.
TV – recorded or shared programs and live TV options.
Tasks – configurations, syncing, burning, extender management.
Settings.
During the first run, the application needs to go through an initial setup of libraries and visual elements. Additional settings or reconfiguration of the application can be done by accessing "settings" under Tasks menu option. I found configuration options very conservative and confusing. For some menus its enough to choose "cancel" to return to the previous menu screen, but for others, you have to actually hit the back button to return to where you were before. On the plus side, the menu options are very well written and understood. Overall, the system is very conservative in regards to customization. In particular, you cannot change the dominant blue color of the application. The flow of the menu is animated, but the screen still looks boring and empty on widescreen monitors. Out of the three media centers in all of the three parts, this media center would get a D+ for customization and settings.
Full Screen/Party Mode.
The application starts in a full-screen mode but can be also used in a window. There is a parental control password lock available, but the program does not have the "don't mess with my system" password lock nor any party mode available.
Suggestions.
If you already own a computer with Windows Media Center on it, I would suggest you get a TV-tuner card, so you can take advantage of the cheap DVR function. Just remember, that DVR eats a lot of hard drive space. As far as using WMC for parties is concerned – it is possible, but it just looks blue, pun intended.
Additional Information.
There is some information on this application on Wikipedia. I also managed to find a free third-party application that can customize your experience with Windows Media Center. Media Center Studio.
SUMMARY:
I talked about the three Media Centers that I used in the past. It turns out that XBMC is the best media center out of the three I talked about. It supports almost all of the audio/video codecs on the market. It is highly customizable, and it can work on all the major operating systems – Windows, Linux, Mac OS X, and iOS.
The second best media center is J. River Media Center. It is a great application to fix and organize your media library. The program loads faster than the iTunes does. It can handle most codecs out there (sometimes you need to download and install K-Lite or something). The program is highly customizable but can only run on Windows operating system. I once tried to run it in Wine – I do not recommend it. In short, there are amazing things you can do with this piece of software, but not before you search online and do some configuration.
The Windows Media Center comes third, if an option at all. Its blue interface is just depressing and feels "empty". The menu is large and can be visible from the distance. The media center can't handle many video and audio codecs without you having to install K-Lite or alternative. If used as a PVR, then some copy restrictions may occur, and you may not even be able to copy the file to some other device to watch it during a camping trip or while you're stuck in traffic. In a nutshell, WMC that is built-in Windows 7 is 2005's version with some newer add-ons. As a result, I am definitely not going to be using this media center in the future. I guess I will need to research and try more media centers, such as MythTV or alike.
Previous.
Media Centers, Part I: XBMC
Media Centers, Part II: J. River Media Center
Question.
I am sure, some of you guys are using a media center and I would like to know which one do you like the best, and what is your setup (TV, computers, projectors, amplifiers, etc)?
SCREENSHOTS:
Windows Media Center Main Menu
Windows Media Center Picture Library
Windows Media Center Tasks
Windows Media Center Settings