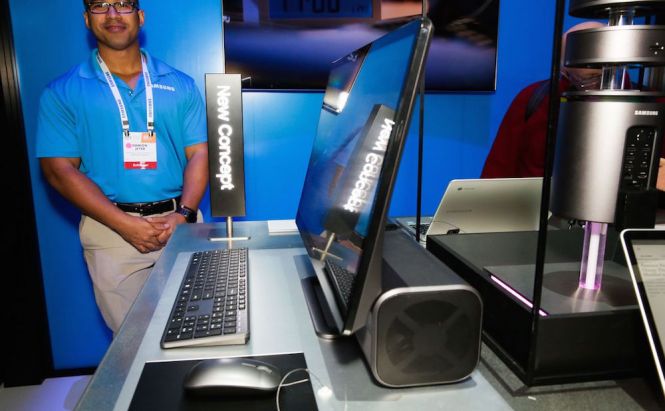 Samsung introduced the All-In-One PC at this year's CES
This year's CES trade show was filled with innovative products and technology presentations. Samsung was one of the most expected participants and held an one-and-a-half hour press conference. For some reason, some of their products weren't as promoted as the rest of their new technologies. One example is the All-In-One PC, a computer that isn't currently available on the market and was presented in two versions: with and without touchscreen.
The AIO PC has a 24-inch Full HD display attached to the front of the soundbar, wireless keyboard and mouse, up to 16GB RAM, 1TB 5400RPM hard disk drive, and Intel Core i5-7400T. Other specifications include several USB 3.0 ports, an SD card slot, and a Gigabit Ethernet port. Another great aspect about this all-in-one computer is the fact that it comes with the SideSync utility, a program that's used to sync files with Samsung mobile phones and tablets. So it goes without saying that this computer deserved a lengthy presentation at this year's CES.
Unfortunately, the tech company has yet to release any information regarding the price for the All-In-One PC. The only thing we're left to do until it becomes available for purchasing or Samsung reveals additional details about the PC is to watch the company's YouTube presentations.
If you're interested to learn more about the products and technologies presented at the CES 2017 you should check these stories: "Best technologies from the CES 2017" or "Intel introduces 5G modem sample at CES 2017".