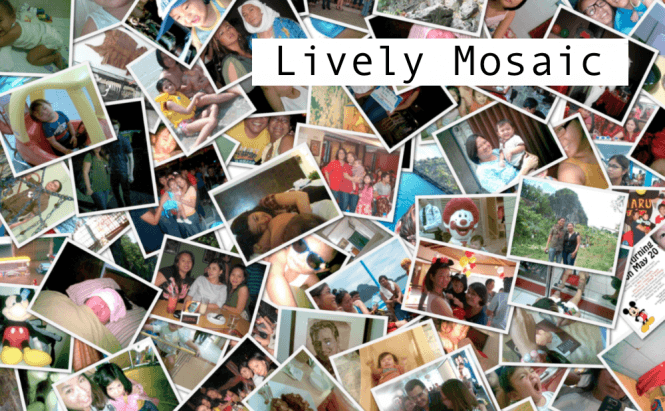 Lively Mosaic
Making a collage is something where you can fully use your imagination and show your creativity. Collages are great and unforgettable presents for almost any occasion or event. It will look beautiful as a simple greeting card or a fancy made picture to hang on a wall. Collages have a personal touch that is why they are so popular to make. The easiest way to make your own collage is to use special software with artistic tools. It is so much faster than using glue and scissors.
1. CollageIt
CollageIt Main window
When you open it the first thing you see is a welcome page with short outline on how to work with the program.
It is a square mosaic collage which fits photos into the layout. You can choose background or color you like. The layout design can be easily changed. If you like the layout but not the image location in it, you can shuffle pictures the way you want them to be.
There are no ready made patterns or templates with stars or flowers. What comes very handy it crops faces and fits the sizes perfectly into the layout. Play with margins and spaces. If you set negative space between photos they will be on top of each other. It looks very neat.
In free trial version you have some features locked. The very modest watermark appears and you can not create image larger than 4000x4000 pixels.
CollageIt
Conclusion: the program is easy to use; collages are good quality for printing. If you don't mind the watermark this software might be good for you.
2. Effect-Matrix Free Photo Collage
Effect-Matrix Free Photo Collage Main window
It is a program for making template collages. You can make the grid or mosaic collage but in general this program is not made for it.
Wizard with detailed instructions guides you on how to work on your project. The general project consists of chosen photos and ready made templates. You can edit elements inside the project. Locate, rotate and change the size. Unfortunately, the program doesn't fit and crop the pictures according to the face location on the photo. Your face might be squeezed if photo doesn't have the right size. In my mind, making collages isn't very good in this program. The variety of frames and backgrounds is poor. Although, you can turn ordinary project or photo into something really stunning with effects and mask tools. Interface is little bit old school style.
The quality of output image is good only for web.
It is totally free.
Effect-Matrix Free Photo Collage
Tip: be aware after closing the program it doesn't automatically ask you if you want to save the project or not. You need to safe it before clicking the close button.
Conclusion: it is the best for preediting and applying effects to the photos which you can use separately or insert into the project.
PictureCollageMakerFree
PictureCollageMakerFree main window
The welcome page offers you a choice of two options. First one is to make a template collage and the second is a grid collage.
Template collages are pattern images where you can insert your own photos into. Basically, templates are drawings on various themes. Templates divided into the categories so you can choose the exact template you wish to use. There are calendars, greeting cards, simple layouts and ones with decorative elements. Surf through the templates related to every holiday. It takes less then 5 min to create a unique layout. It is a wonderful idea for someone's birthday or Christmas card.
If you don't want any fancy drawings or decoration you can use simple design. You will get randomly located photos in plane square frames. There are plenty frames of this kind, choose any.
Second choice is a grid collage. Grid collage is made out of the photos of equal sizes. There is no option to make one photo slightly bigger or smaller. You can choose the number of rows and columns where your photos are placed. This type of collage is good when you have the same size images. If you have zero space between grids it looks like images are snapped.
Doesn't matter which collage and layout you choose the program will resize the photo and locate it according to the face position. Your image will perfectly fit. The image quality in free edition is good for web only the size is 600x800 pixels. There is an option to upgrade the software to Professional edition and more features will be available.
Tip: there is an option to set your collage as wallpaper. It sets the wallpaper immediately. Don't press that button, unless you are sure.
Conclusion: simple and easy to use. It is very fast to make collages with this software. Perfect for the people who like sharing photos online.
Photocollage
Photo collage is shareware program. It has a variety of frames which is good if you want to work with single photo and decorate it. There are arts also. Arts are small images you can insert into your collage. When you work with templates there is an option to fit image sizes correctly into your collage. This program is more complicated than other ones. Edit images by using different effects. You can rotate, flip, deform, filter different elements. The text can be easily added to collage. Interface is a little bit old fashioned. If you use a trial version you will have a large watermark on top of you saved collage. The image size will be small.
Conclusion: it is good for one picture collage especially when you work with frames. Small frames will not reach the watermark. The choice of frames is terrific.
5. Picasa
Picasa is a remarkable application. It is totally free. The main purpose of it is a cataloging tool for photos. It has also very powerful editing set of tools that comes very handy for processing photos. But the feature which caught my interest is that Picasa is capable of making collages. Collages are made from the pictures you choose. Select your favorite photos and by one click your collage is ready. Picasa offers you to choose layout and content. There are six different types of collage. Some of them are very innovative such as picture pile and frame mosaic. Photos will be perfectly fit into the square shapes and automatically centered to your face. The user interface is stylish, smooth and intuitive at the same time. It is a pleasure to use this application. The output image is a very good quality which is perfect for printing. The interface is not overloaded with additional features. There are no templates or any decorative elements. You can not set the margins and spaces between the photos. Anyway, it will not spoil the impression.
Picasa
Conclusion: if you need to make a fast, good quality collage image then Picasa is what you looking for.
Combination of multiple photos and images into one is my favorite. It is simple and impressive at the same time. The final design is not overloaded with additional elements. Your attention is not caught by unnecessary decorations. That is why the best choice for me is CollageIt or Picasa . CollageIt definitely has more features and options to arrange and customize photos in an unlocked version, but Picasa doesn't lag behind. It is free and easy to use. I vote for Picasa.