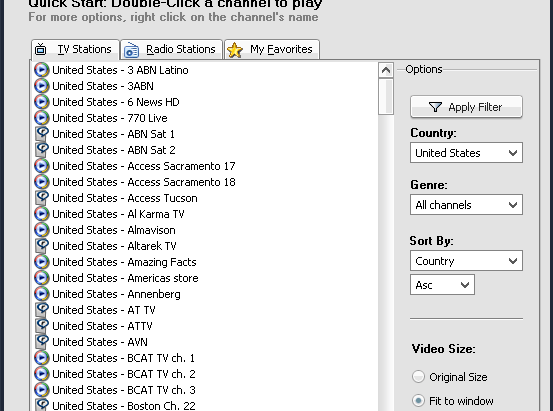 Internet TV
I like meeting new people and discovering places around the world, hence I travel a lot. My line of work requires me to carry my laptop with me and I do not mind it. At nights, when I am done with my submersion into the local culture, I get to stay in touch with my friends, colleagues and family back home or email or get an update on the recent news. Of course, I could quickly type in a web address for some international news broadcasting company and watch live feeds from there, but I would have to remember way too many addresses. There is a simpler solution.
I can install a program on my computer to gain access to hundreds of channels from around the world. There are TV stations in the world that broadcast their content over the Internet, besides hundreds of online-only TV stations. Anyone can get access to that content for free as long as they've paid for their Internet connection, I guess. Without a special program, however, one would have to, first, find those websites, and, second, bookmark them. But, still, those bookmarks are unorganized and uncategorized and one could easily get lost among the choices.
There are many programs exist out there on the market, but the Super Internet TV is used by 12,586 Software Informer's users, which means it is very popular and should be considered as a dependable alternative.
Before I go on talking about the program and its benefits, I want to make sure that you know that watching Internet TV will require a serious Internet connection. While dial-up is the last century's technology, I know some people who are still using it to access the Internet. Internet TV is not for slow Internet connections. Your connection should at least be 300 kilobits per second. Most DSL and Cable will be able to handle the traffic, but if you've got a slower connection, then your experience will be just as disappointing as your connection.
And now it is time to look at Super Internet TV. After a quick download and just as quick installation, you will be presented with a window where you can apply a filter to display only the TV channels from the country you are interested in.
Super Internet TV - TV Channel List
Once you've chosen which TV station you wish to watch, just double-click on your selection. This will close the list and open up a media-player-like window. The player will try to connect to the source; if the connection with the server is established and the Internet speed is satisfactory, then you will see your video. Since the video sources are located around the world, you should expect that some, if not most, will be unavailable to you. The quality of those videos will depend on your Internet connection and the initial quality of the video that is being broadcasted over the Internet.
Super Internet TV - Video from Brazil
If you ever get tired watching TV from various countries, or your own country, then you can search for a radio station to your liking. This will get you amused for hours on end, especially if you are successful in your search and find the station that plays your type of music.
Since the program features over 1900 TV stations and over 5000 radio stations, the developers included a very useful feature – Favorites. You can add the channels you liked, so you will never need to search for those channels again.
Also the program features automatic update of the channels. Every day, there is a new channel appears somewhere on the Internet, some channels are dropped due to Broadcasting company's disinterest or financing issues, but regardless of the case, the list of those channels has to undergo maintenance. That maintenance is done by the developers of the program or whoever they take this list from. In any way, that is a benefit to you, as you get to enjoy the channels without much work.
Finally, I wanted to mention that a lot of channels are sponsored by various religious groups around the world and warn you that some of the channels may contain adult material. So, if you have children and they have access to this program, please see what they are watching with it.
Check out the program's page on our website: Super Internet TV. If you know of any great alternative, I would like to hear about it in the comments section. Meanwhile, enjoy watching TV stations from around the world.

P.S. Many people use this program to learn another language, just so you know.