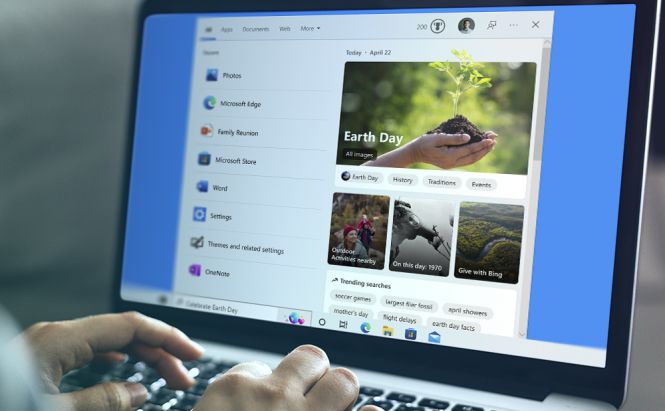 How to disable Search Highlights on Windows 10 and 11
Microsoft has begun rolling out a new update to Windows 10 that will introduce the Search Highlights feature. The company has already implemented the option in recent Windows 11 Insider builds, and it has received mixed reactions from users. While the new feature might be welcomed by those taking interest in important news from around the globe, it can become a real distraction in the useful search UI.
What is the Search highlights feature?
Search Highlights is made to replace the initial content of the Search panel that currently displays a list of apps, settings, and documents recently used on the computer. The content of Search Highlights will be regularly updated and will show fun illustrations, significant events, Microsoft rewards, and educational topics.
"Search highlights will present notable and interesting moments of what's special about each day—like holidays, anniversaries, and other educational moments in time both globally and in your region. To see more details at a glance, hover, click, or tap on the illustration in the search box. For enterprise customers, search highlights will feature the latest updates from your organization and suggest people, files, and more." the Windows Insider team wrote in a blog post.
It turns out that many users aren't happy with this update and find this more dynamic content distracting. Fortunately, one can disable Search Highlights on both Windows 11 and Windows 10.
How to turn off Search highlights on Windows 10
Please follow these steps to disable this feature on Windows 10:
Right-click on the Windows 10 taskbar.
Select Search.
Clear the "Show search highlights" option.
Done! The feature is turned off.
How to turn off Search highlights on Windows 11
Go to Settings.
Click on Privacy & security.
Find Search settings.
Turn off the "Show search highlights" feature.
After you complete these steps, Windows 11 will stop showing extra information in the Search box.
In this article, we've provided the instructions on how to get rid of Search highlights on Windows 10 and Windows 11 if you don't want additional content to be shown in the taskbar search box.