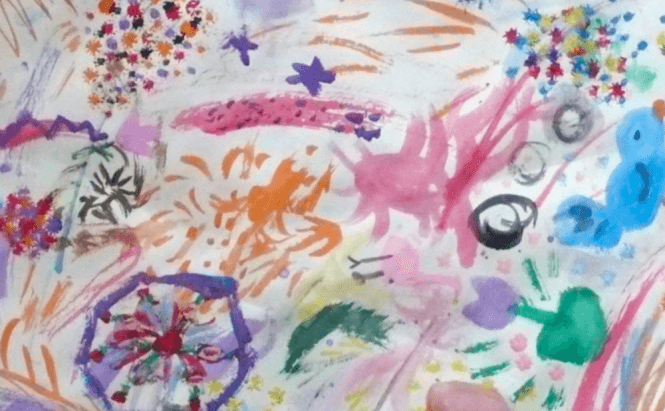 Every Child Can Be an Artist
I've just visited a local children art gallery, and I'm very impressed how creative kids can be, even those of the youngest age.
Among the painted hedgehogs and Christmas trees made of plasticine and gouaches, I suddenly noticed a big stand displaying some unusual, to my mind, pictures. As it was stated in the descriptions, those were pictures made with software designed for painting. At first sight, those pictures seemed to be ordinary modern artworks, but at the same time, they looked like usual children's drawings.
At that moment I suddenly conceived that times have changed, and I realized I should somehow keep up with the changes and stop living in the past.
Software has already become an integral part of our everyday life. We are so used to saving almost all our data on different hi-tech devices. We work with computers, play computer games, we even watch digital TV programs on our desktops, smartphones, etc. So why not let our children develop their creative skills with the help of the latest developments? All the more so, as we can find numerous applications browsing through the Web?
A picture sample
The selection of the available painting programs is not limited to the traditional Windows Paint: we can find loads of coloring books and painting software on the Internet. However, a question arises, what we should pay our attention to when choosing an application? First, it should have a user-friendly interface, designed specially for children. Second, it should feature big buttons and boxes, where it would be easy to find the basic drawing and painting tools. And third, some additional features like adding stamps or graphic effects, as well as the ability to customize the main program's settings are also welcome. Here is a couple of examples of nice kids painting programs.
Kea Coloring Book is a coloring application, which is aimed at kids starting from the age of one and a half. You can select one of the very funny pictures of animals or toys, which will surely bring joy to your child.
Have you ever seen a yellow cow with a blue tail?
The program also features some color pallets, allowing kids to learn subtle shades along the basic colors. There is a big button for every color, which makes it the task of choosing a color much easier for a little child who still may have difficulties using the mouse. The program also includes such basic drawing tools as a brush, pen, marker, dropper, and eraser. This seems to be enough, if your only purpose is to introduce your kids a painting application, and to teach them to color pictures.
What is more, the Kea Coloring program has a settings section, where you can customize palettes, add new images to the catalog of drawings, set the main file formats you want your child's creativity results to be saved in, and even set passwords to control the access to the program.
All in all, this easy-to-use program looks very attractive and is worth trying.
According to user feedback on the Web, Tux Paint is a drawing program, distinguished by an intuitive interface, fun features, cool effects and graphics, even great sounds. Over the last 5 years the program has won heaps of awards and loads of users' kudos as one of the best open-source programs developed for kids on the Web.
Let's look at its major features.
First of all, Tux Paint presents a wide range of standard tools, including a paint brush, rubber stamp, line tool, shape tool, and text and label tools. The list of "Magic" (special effect) tools is also very impressive. Many of them (such as "Glass Tile"overlapping glass tiles over your drawings; or "Fisheye", which allows to view parts of your picture through a fish-eye lens) can really help your children develop their imagination and give them new creative ideas. It seems that the developers of Tux Paint did their best to let children feel like real artists. Kids can paint with a colorful gel looking like toothpaste, add a tornado funnel to their pictures, paint with a brush sparkling like a rainbow, along with using such simple tools like Noise, Mosaic, or Waves. As the developers claim, there are still some tools to come, and very soon the program will feature new and even more awesome effects.
A simple picture, drawn by my child in about 5 minutes with the help of "magic" effects and unusual brush types like "flower" and "squirrel".
In addition to this, hundreds of photographic and cartoon stamp images are available to the user, and parents can add and categorize even more pictures to this gallery. Moreover, there is an additional download for the standard set of stamps at the developer's web site for those , who don't want to be stop at the default selection.
The beginners can also use some of the preloaded pictures as color templates or as guinea pigs for experimenting with program's effects.
To crown it all, this program is fully customizable: parents can set the program's interface according to their children's abilities and needs. It is possible to set off some toolbars to simplify the use of this application as well as prevent your child from accidentally quit the application as well as accessing other programs or files on the desktop. I've found these options very flexible.
Tux Paint Configuration panel
Finally, the program's interface has been translated into more than 150 languages that allows kids from all over the world to give Tux Paint a try.
In the conclusion, I would only add that painting software for kids can really help our offspring develop their imagination and let our little fidgets create their first masterpieces while spending their free time with fun. However, these wonderful software tools shouldn't replace the real pens and brushes, which are so necessary for the normal development of the children's creativity skills, no matter how attractive and interesting these programs may seem to our children. But that's a completely different story... perhaps, for another article :)