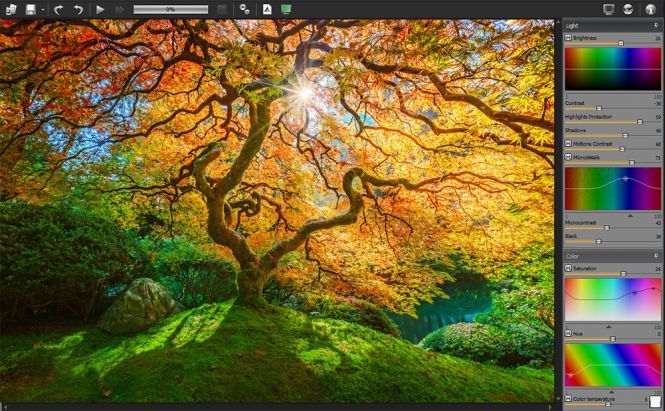 Best HDR Photography Software
If you've ever tried to take a photo of anything against the light, surely you've run into this problem: either the object in your photo gets too dark or the sky becomes too bright. The result in no way resembles what you see with your own eyes at the moment of taking a photo. That's because the human eye has a higher dynamic range (which is simply the difference between the lightest and darkest points you can capture in a picture) than digital cameras. Generally, the human eye can adjust to varying brightness while cameras can capture only a fixed dynamic range. Is there any way to make the photo more natural with more balanced exposure and capture the entire beauty of the moment? Actually, there is: HDR photography.
HDR (High Dynamic Range) is a special photography technique offering an unusually high dynamic range that is impossible to achieve in a single photo. Basically, to create an HDR image you need to take three or more photos with different exposures. Then you need to use an image editing application that will help you put these three photos together and highlight the best parts of each image. We've rounded up three software utilities we think are best to help you create stunning HDR photos.
Photomatix Pro
Photomatix Pro Interface
Photomatix Pro is one of the most popular applications for producing HDR images. Creating HDR photos using Photomatix Pro is quite easy. You simply select your three pictures taken with different exposures and the program automatically merges them together. You can then adjust the result to get the look you want or simply use one of presets that will instantly auto fine tune your image. Moreover, Photomatix Pro offers such useful features as Selective Deghosting that will help you get rid of so-called ghosts that sometimes appear in dynamic scenes and Batch Processing that will let you apply the same effect on several images. Photomatix Pro is a professional intuitive photo editor offering a vast variety of useful options and is able to produce rather natural results. The utility comes as a standalone program but can also be used as a plug-in for Adobe Lightroom. Photomatix Pro is shareware coming at the price of $99 and offering a trial version that has no expiration date but puts a watermark to your result images.
SNS-HDR
SNS-HDR Pro Interface
SNS-HDR is another worthy option when it comes to producing HDR photos. The program is created by Sebastian Nibisz and has a very intuitive interface. You can choose to simply blend three photos together without any post processing and still get a very natural-looking result. The program also offers a wide array of tools to manually adjust your HDR photo with such options as brightness, contrast, and sharpening as well as various presets like Dramatic that will exaggerate local contrast, Interior, which is actually a softer version of the Deafualt preset, or LDR, providing minimal shadow detail. SNS-HDR is an awesome program when it comes to creating realistic HDR results. The software comes in three variants: Lite that is completely freeware, but lacks a graphical user interface and runs from the command line only, the Pro version that costs 85 euros and offers an expanded version with an easy-to-use GUI and finally the Home variant, available for 30 euros with the same functionality as Pro, but lacking batch processing mode.
easyHDR
easyHDR Interface
The third program on our list is easyHDR, an image editing utility that can produce and tone map HDR photos. The software offers very intuitive and professional interface and a whole pile of tools for editing HDR images including a broad list of presets and tone mapping settings to adjust shadows, highlights, blackness, and other elements of your photos. The software also has a nice ghost removing tool helping to eliminate undesired objects that might appear when combining photos to create a single HDR image. Just like the previous programs we observed, easyHDR can produce very natural results, but you will probably find it a bit limited if you're more into heavily post processing HDR images. The program offers a trial version that has an unlimited time use license, but adds watermarks to your output photos and doesn't allow to save them in TIFF format. The full version is available for 29.00 euros.