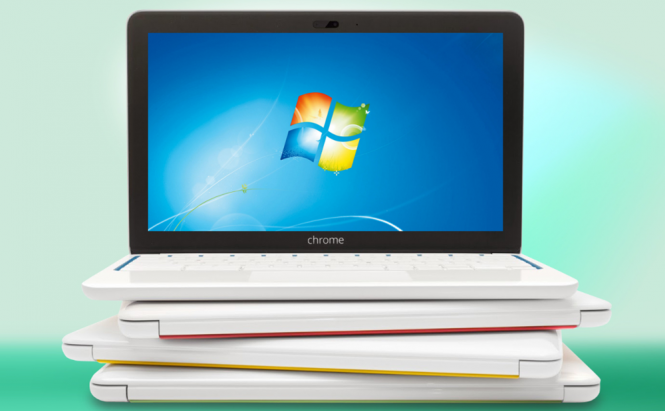 Use Windows programs on a Chromebook
If you need a second computer or if all you do on a PC is watch videos, socialize and play browser-based games, then Chromebooks are a great solution. They aren't only a lot cheaper than a regular laptop, but they're also faster having a shorter booting speed and being optimized to run the small number of applications available on them. However, what do you do if you have a Chromebook and you need to access a Windows program? Let's find out, shall we?
Unfortunately, there's no simple solution for this problem, so you won't be able to install an emulator or a virtual machine that will simply allow you to run the Windows application that you need. If you want to use a Windows program from your Chromebook, you're going to need a remote desktop connection. This means that you'll have to prepare ahead by having the right applications installed and running. You'll also need an Internet-connected Windows computer that is turned on at the time.
Let's keep things as simple as possible and use Google's own tool for this task: Chrome Remote Desktop. The first step is to install the previously mentioned application on your PC, run it, then click on the Get Started button from the My Computers section and follow the steps to set up the CRD Host Installer. Once that's done, type in a PIN (it will need to be numerical and at least six digits long) and leave both the PC and the application running.
Now that we're done preparing, let's focus on the Chromebook: first, make sure that you're signed into the same Google account as the one you're using on your PC, then download the Chrome Remote Desktop from the Chrome Web Store in case it's not already installed, run it and click the same Get Started button from the My Computers section. Your PC should be listed there as a host; click on it and enter the PIN code to initiate the remote connection. Now, you can access and interact with any application on your PC directly from your Chromebook.
Before we end things, you should also be aware that this method has a few important limitations. Firstly, your Internet speed will dictate how smooth the whole process is, so if you have a bad connection things may seem a little clumsy. However, if your Internet connection is solid, you will even be able to watch movies and play games from your PC in more than decent conditions. Another possible problem is the difference in resolutions between the two devices, which may cause some programs to look weird on your Chromebook. You can disable the Shrink to fit option from Chrome's settings to fix it, but that will just mean a lot of scrolling around. Lastly, you should also remember that any audio that you're playing remotely will also be played on the PC, so you might want to mute the computer's speakers before listening to music at max volume.
Now that you've seen how to use Windows programs on a Chromebook, you may also want to read: "Get personal customer service with Chrome" or "Use an old laptop to see what a Chromebook would be like".