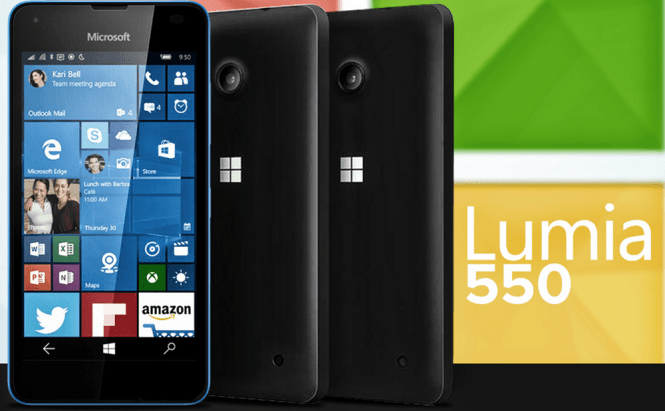 The $139 Lumia 550 smartphone goes on sale today
If you're looking for a cheap smartphone that you can pair up with your new Windows 10, then you're in luck. Microsoft's Lumia 550 has just gone on sale in a select number of countries and the device is perfect for those looking to buy on a budget. With a price tag of just $139, the 4.7-inch phone is perfectly tailored for those with smaller pockets, both figuratively and literally. At the moment, the product is only available in Europe, but Microsoft plans to expand its availability to other areas as well.
Since we're talking about a $139 phone, you've probably already guessed that Lumia 550 doesn't feature the hardware that you'll find in a flagship device, at least on paper, the specs still sound pretty good. Under the hood you will find a 1.1 GHz quad-core CPU, 1GB of RAM, a replaceable 2100 mAh battery that can last up to 7.1 hours of video playback and 8 GB of internal storage expendable to up to 200 GB with a MicroSD card. Additional features include a 5 MP rear-side camera and 2 MP front-side one, 4G LTE connectivity, LED flash and exchangeable back cover (but as far as I know, Microsoft only offers black and white cases).
Lumia 550
As far as drawbacks go, there is no Continuum support (which means that you won't be able to plug the phone into docking stations and use it with a mouse and keyboard) and you can't use Microsoft Hello as the device lacks the infrared sensors necessary for facial recognition. On the plus side, Lumia 550 is a really affordable way to try out the full Windows 10 experience and it comes unlocked, so you can use it on any network.
If you're interested in Windows 10 flagships, Lumia 950 and Lumia 950 XL are already available on the market.