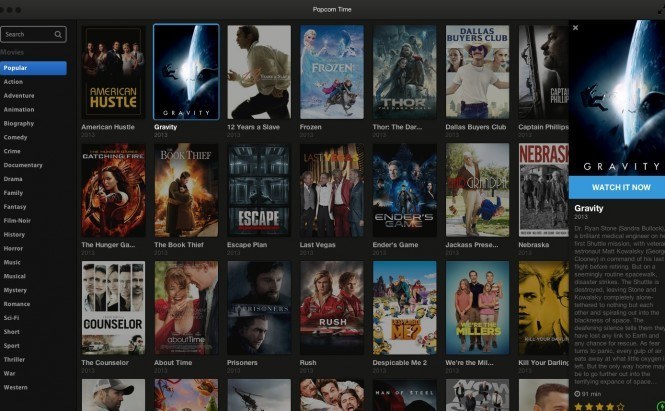 Popcorn Time Service Is Up and Running Once Again
The open-source project Popcorn Time, which had been recently released and became a huge success overnight, struggled to live under the flag of its initial developers from Buenos Aires for longer than four days. The beauty of good open-source projects, of course, is that once released on the Internet, there's very little chance they will ever completely disappear. The project is going to be picked up and released by a torrent website whose API was used by the original developers.
Most likely you've heard of Popcorn Time at this point, or perhaps have given it a go, but to catch up the unfamiliar – it is an app released for Windows, Mac, and Linux that gives you free and unlimited access to mostly pirated media content through torrents (which may be prohibited in your country!), and reduces the necessity to deal with those habitually clumsy torrent interfaces. If that doesn't capture your attention, how about this – the app also presents you with categorized lists of movies with all kinds of metainfo (covers, synopsis's, you name it), and whenever a download is started, Popcorn Time can stream the video almost instantly! Here's how it looks:
Popcorn Time
If the screenshot above reminds you of something, you are not the only one – Popcorn Time is basically Netflix without the monthly payments. "How is it legal?" you may ask. Well, the application itself is practically "harmless", but it works in conjunction with the YTS torrent website (it's built on their API), which regularly receives legal threats. So, as the initial developers stated in their Good-bye post, Popcorn Time isn't illegal:
"Popcorn Time as a project is legal. We checked. Four Times".
The post gives credit to people who helped organize the Popcorn Time project and practically brought it to life. It goes on to explain why the application is no longer going to be supported after such a short run, and stressed the main motive for that: "Our experiment has put us at the doors of endless debates about piracy and copyright, legal threats and the shady machinery that makes us feel in danger for doing what we love."
The torrent site YTS announced that they are going to take on the project, which is good news for a lot of people – if the initial developers were just geeks (as they called themselves in one of their posts), YTS has been in the biz for a long long time. Hollywood is expected to respond to this new kind of piracy, but is there anything copyright holders can do? The beta builds for Windows, OS X, and Linux are going to be posted on Github.
UPD: YTS has published a clarification -- they are not taking over the Popcorn Time project:
"YTS is not taking over, and is in no way affiliated with Popcorn Time. This has been misreported on and caused much confusion for many users, for which we apologise.
Popcorn Time is a community driven project, not owned nor maintained by a single person or entity."