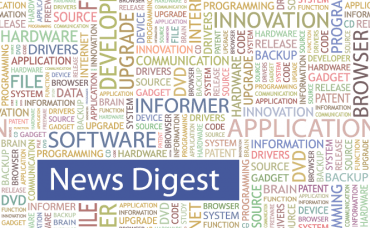 News Digest #2
Today, we are presenting issue number 2 in our new column that was started last Friday. We have picked the most interesting news of the week and now we want to share it with you.
News Digest
Web
The beginning of the week was lit up with the information about starting up yet another social network that diverts much from what we are used to. Anonymous have announced the launch of their own network with Google-mocking name Anonplus. The website's main purpose, according to the developers, is to 'thwart government censorship', so that people could express their opinion without any fear of being punished by the authorities. This is going to be a free platform for sharing ideas imbued with the spirit of anarchy and permissiveness. Unfortunately, the team has not yet informed the public on the date when the service will finally be available, but here, we are looking forward to seeing if it really turns out to be as grand as promised.
Social network users should, however, be more attentive now, as the authorities of several countries, including the USA, Great Britain and Germany, have officially warned they are going to check the contents of users' pages on various social services for information that could threaten the national security.
The existing popular services are actively developing and improving. LinkedIn, a network designed for connecting professionals from all around the world, has reported the expected revenue of around $480 million for the first year after going public, 2011, which is a 100% increase in comparison to the previous year. Meanwhile, Wikipedia's business seems to be in a bad shape. The greatest online encyclopedia is gradually losing its contributors. The issue is attributed partly to decline in need for new articles and partly to the stringent policies and complex editing rules. The ill-at-ease administration is now trying to simplify the procedures and expand its audience by adding new features, especially for those who are engaged in teaching, so as to provide an opportunity to create affordable educational materials.
As for Google, it is again trying to leave its competitors far behind, this time by implementing the opportunity to make voice calls all around the world right from the Gmail webpage. Since the option is absolutely free and works with mobile and landline phone numbers as well, Gmail may become a powerful rival among the VoIP clients.
Software
This week Google has cheered us up with another pleasant update: Google Chrome 13 is finally released on a stable platform. The devil's-dozen edition has become even faster: the developers implemented the so-called Instant Pages function, allowing you to have web pages prerendered and thus save time on opening websites. And this is not to mention other 5200 improvements and updates made to the one of the most popular web browsers.
The next issue will be useful for amateurs in web development, as well as for those who don't like spending ages while looking for bugs and mistakes in their websites. Tonband Software have updated their Web Site Maestro to version 8.6. The application is now able not only to check the code for mistakes, but also to optimize HTML; it has an FTP client allowing to upload the user's website to a remote server, as well as an improved utility to work with Google Analytics.
Good news for designers and art lovers:Akvis ArtWork has been updated as well. This piece of software is designed to imitate various painting techniques, and is able to create very realistic works of art out of ordinary photos. The new edition's style library has been significantly extended, so anyone can now allow fancy to play round and create a masterpiece without any effort.
Gamers will also enjoy this week's news: Blizzard has implemented an auction in their upcoming Diablo 3, so donation is officially made possible; Electronic Arts has promised a release of Need For Speed: The Run, a limited edition of the famous racing simulator, and a new version of a popular MMORPG Guild Wars, will soon be available.
That's it for the week. Hope you enjoyed it. Be updated!