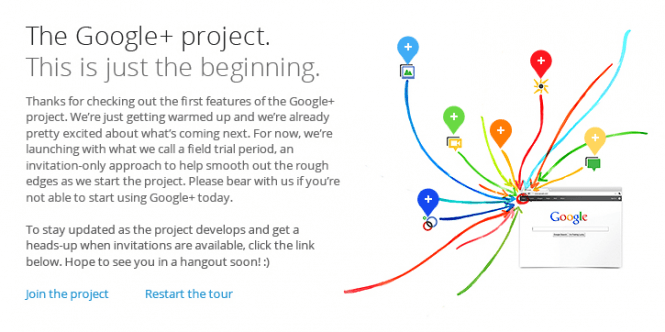 Google+
Google+ Demostrantion
Things are moving way too fast for my aging brain. First, Facebook is in the middle of the scandal for unrolling face recognition technology without notifying its users, then Apple making many things free and moving, like, everything to the their cloud and their data centers... Then Google releases Google + social network project in testing mode. Right about this point, I begin to understand what Bob Sinclair is saying with his song "World Hold On".
Will Google+ become the next step in social network evolution or will it follow MySpace's destiny? There are some promising features, including Circles and Huddles. Facebook has only one circle – it is all of your friends on Facebook. Of course, you can edit lists, and add people to those lists, but it was proven to be very hard and time consuming activity, so many people just do not do it. Some found it easier to create a second profile – one for family and one for friends, so friend's won't know how old you really are, and family won't know about your alcohol addiction through those drunken pictures on your Facebook wall. Another problem is chatting on Facebook. Chatting with only just one person is last century! We need a group chat option with ability of video calls. Facebook acquired enough companies to make it possible, but there is still nothing in the news about them taking things to the next level. While Google's project begins with group chat, called Huddle. Hangouts are a place for video chats with a circle of your Google+ friends. The loudest person takes a front stage. Since the project is still in beta testing and operates by invites only, there is no word on how many people can be "hanging out" at the same time.
The project's introduction page only mentions a subset of all the features that will be available in the full version of the project. One can expect that Google is planning on ever more interesting features that will draw people into using Google's new social project. But to tell you the truth, I do not think Mark Zuckerberg is not having something up his sleeves. Facebook has been an innovative social network platform for years, but innovative expansion stopped with the introduction of the ever confusion Facebook's Inbox, a service that logs every single of your conversations. It's been over a year ago and since then there is nothing new, even their constantly changing interface was not touched. I am sure something GRAND is coming up. In fact, I began writing this article right after I read the news that Facebook promises to launch something "awesome" sometime next week (the first week of July). Many speculate that it will be a long awaited app for iDevices, but it is nothing more than a speculation until the mystery is solved sometime next week. I like Facebook and I kind of hope that they will launch some sort of group chat and video chat feature. There is some evidence that they are planning on implementing something like that as they placed a bid for Skype a couple of months ago. In my opinion, Facebook should be somewhat scared of Google's competitive project. All Google needs to do is to place a link to Google+ on their main search page – that will attract people's attention, for sure. Besides, Google has access to a large number of e-mail accounts, that they could legally spam with invitations to their new services. On top of all of that, Google has Gtalk, which is probably is a basis for their "Hangouts" feature in Google+. And I do not even mention Google Translate at this point. Erasing language boundaries when bringing people together will definitely be the next step in Internet's evolution and overall human communication evolution. But that sounds more like the science fiction for now, so I drop this line of thought and return back to Facebook. Facebook's strength is its member's devotion to the service. No one wants to start creating a profile from scratch, no one wants to re-find and re-add all the friends and the family members on the site they might not be present yet. But as we know, the Internet is unpredictable. Maybe 5 years from now, we will talk about Facebook like we are talking about MySpace, which apparently is being sold for a song (it was a long article and I couldn't finish reading it, but it somehow involved Justin Timberlake). On the other hand, Google+ can be Google's Orkut – a social networking site popular, only it seems, in Brazil. The time will show.
As the afterthought, I would like to remind you that there are currently many social networking websites, but only Facebook, Twitter, and Myspace are internationally accepted and recognized. Many other services target particular culture or language. Of course, you can argue that LinkedIn should be among the top 3, but it targets the professionals. A homeless person can have a profile on MySpace, but won't reap any benefit from a profile on LinkedIn. With Google+ arriving soon, the top 3 will either expend or some peculiar shuffling will occur! Can't wait to try Google+ and to unveil the future before my eyes, and YOU?!