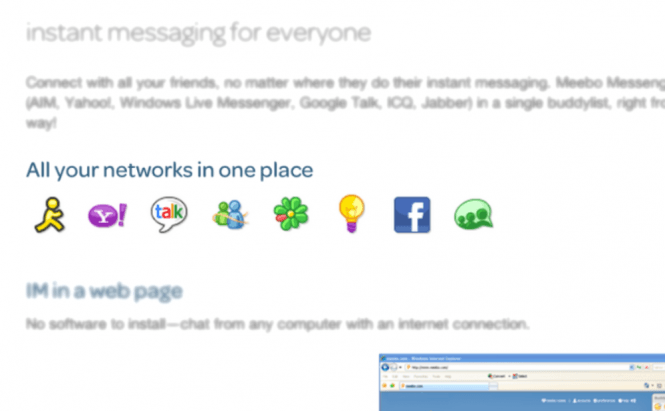 Websengers
If you are in your 20s or early 30s, the chances you use instant messenger are quite high. You may not be using it anymore but you still got an account on one or more of the following services: YIM (Yahoo Messenger), AIM (America Online), MSN/Windows Live (Microsoft Messenger), and ICQ (Mirabilis' project that was bought by Mail.ru due to popularity in Russia). Before MySpace and Facebook and Gmail began to offer built-in chat clients, instant messengers were the "IT". Each one of them has advantages and disadvantages, and disregarding your preferences, you choose the client that has most of your friends or family members in its network. Well, it was ridiculous that you had to install all of those clients so just you could converse with your friends, so developers began working on combining all of those services into one client. Trillian was everything I really needed. It had problems supporting file transfers, and some other functions were missing, but it united all of the messenger protocols in one interface, which eliminated the need to install five programs. However, there is a persistent problem with Trillian – the conversation logs could only be saved on one computer. You could have used one of the computers on your local network and save logs there, but the nets were not as stable and advanced as they are today, and an average user would not be able to figure something like this out. A couple of years went by with this problem not being addressed but soon enough a solution came to light.I do not even remember how, but sometime in 2006 I discovered Meebo. It's all I ever needed at that time and I am still using it today. Meebo is a websenger. It means you do not have to install anything, all you need to have is a computer with enough RAM and a stable internet connection – that's all. Typing Meebo.com in the browser's address bar becomes easier after some time. Enter your login information for the service and voila – you have access to add accounts for yahoo, aim, ICQ, Facebook, Gmail, MSN/Live messenger, Jabber accounts and others. Currently, Meebo supports dozens of protocols of services I've never even heard of but I am sure they are popular.
Benefits.
Unified interface for a number of instant message protocols, including Oscar (AIM, ICQ), YMSG (YIM), MSNP (Windows Live Messenger), XMPP (Google, Facebook chats).
Logs are saved on a remote server. So even if you are switching computers, you do not have to worry about the logs – they will always be with you as long as you use Meebo. (Note: Logs are unavailable outside of Meebo = also in disadvantages).
Protocol independent flash based video chat (however, it was very hard to get it working and its quality is quite poor).
Group chat room support (multiple-user conversation).
Supports webpage themes.
Available on all (most) operating systems with a web browser.
Nothing to install!
Disadvatanges.
Poor support of Unicode or languages other than Latin based.
Inability to set a protocol-specific status update, only the general – one for all.
Incoming font styles only. No option to set outgoing font styles.
Logs are unavailable outside of Meebo service (can't save them nor update when not using Meebo).
Buddy/user management is buggy. (For example, deleting a buddy from Yahoo's account does not mean the user is deleted permanently from it. The buddy will be available in the native Yahoo application).
Unencrypted transmission of messages. Privacy issues on public networks (coffee shops, etc).
Competition.
Well, despite its poor Unicode support, I was pretty happy with the Meebo and I never cared to check or paid enough attention to existence of alternatives. However, recently I came across IM+. What caught my eye was that this application was written for all the popular smart phone operating systems (webOS, iOS, BlackBerry, Windows Mobile, and Android to name a few). This service also offers web version of the messenger and it looks and acts like Meebo's service but has less features and its interface is a bit cleaner to my taste. You can check it out by typing this into your browser "plus.im", as long as you use Chrome or Firefox, otherwise Google search by the same string.Secondly, I checked out Mirabilis' Trillian again to see what's up there. Well, it turned out that they also had launched a web version of their client. It is based on Flash technology and does eat up system's resources. Video chat and games are missing from this service as well.While checking out the updates on the Trillian's webpage, I found out that the newer version 5, although in beta testing mode, is offered for download. One benefit of this newer version is that it synchronizes your logs with its centralized server, so whether you are using Trillian on your phone or a laptop, you will always have your logs current. I am sure there are many more alternatives. And if you know of any, please comment with its name and web addresses.
Summary and a Final Note.
The new Trillian 5 will be useful for many people around the globe. Unfortunately, even with its synchronized logs, this program is not going to be useful for me. A lot of times I am unable to install software on computers. For example, when I travel and forget my nettop, I am forced to use public computers, therefore, there is no option to install a piece of software on them. The benefit of a web version is that it runs when you want it to run on almost any computer hooked up to the Internet. It is not stuck in the background eating up your resources, both ram memory and hard drive space at all times. But I am sure that installing the client does bring some marginal advantages than the limited web version. It's just in my opinion that those advantages are not apparent enough.In general, I am a loyal customer. Since I've been using Meebo for years now, I think I am going to stick with it. Besides, I do not need more from the service than it already is, well except for improvements. All I need is basic text messaging with my friends who are still stuck using Yahoo and AIM messengers for whatever reason. Meebo can do it perfectly for years to come.
Final Note: As you grow older, the need for instant messaging as means of personal entertainment decreases in backwards proportion to your age. I used to be available online 24/7 (yeah, college days), but lately, if I am singing on the messengers through Meebo – it is once or less a week. I expect within the next couple of years I will completely cease to use instant message services, such as AIM, YIM, and MSN. I expect to continue using Facebook's chat and mail for a few more years, and Google's chat once in a while since its convenient and its right in my mailbox. But overall, to me, instant messaging is in desperate need of reinvention and moving on to the mobile devices period. 4G networks will allow users to exchange files over the network right from their mobile phones. Mobility is the slogan for this decade and companies should recognize that and produce goods and services accordingly. Will see what the future stores for us.
The list of all mentioned programs here: