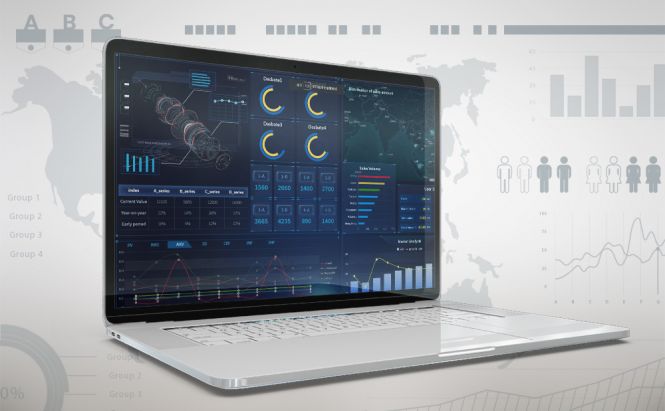 Best Data Analysis Tools in 2022
To be able to perform data analysis at the highest level possible, analysts and data professionals will use tools and software that will ensure the best results in several tasks from executing algorithms, preparing data, generate predictions, automate processes, to standard tasks such as visualizing and reporting on the data. Although there are many of these solutions on the market, data analysts must choose wisely in order to benefit their analytical efforts. That said, in this article, we will cover the best data analysis tools of 2022.
Power Bi
Microsoft has ensured Power BI keeps evolving and catering to changing business needs. Started as a straightforward Analytics tool, Power BI is now equipped with Machine Learning capabilities for sentimental analysis and integrates effortlessly with other platforms for streamlining the analytics workflows. Power BI also goes a step further by converting insight into action with Microsoft Power Platforms to build business applications.
Power BI offers a free desktop version to help individuals learn, but for small organizations, it has Power BI Pro for $9.99/user/month. And large companies can opt for Power BI Premium, starting from $20/user/month, for getting access to advanced features like data management and capacity. With Power BI, companies can also choose a pricing plan based on capacity instead of per user for $4,995/capacity/month.
Tableau
Tableau offers an expansive visual BI and analytics platform, and is widely regarded as the major player in the marketplace. The company's analytic software portfolio is available through three main channels: Tableau Desktop, Tableau Server, and Tableau Online. Tableau connects to hundreds of data sources and is available on-prem or in the cloud. Tableau also offers better customization with its server architecture to fit different needs of enterprises. However, what makes Tableau stand out for learners and other professionals is that compelling dashboards can be shared among people who do not have Tableau installed.
Although Tableau is free to use, you can open new capabilities with its premium plans. Tableau has three models called creator, explorer, and viewer. Tableau Viewer only lets you interact with dashboards and visualizations for $12/user/month. In comparison, Tableau Explorer and Tableau Creator allow you to prepare and manage data for $35 and $70 per user per month, respectively.
Microsoft Excel
Microsoft Excel is still widely used across the world, despite its reputation as a standard method of analysis. It's a reasonably versatile Data Analysis application that allows you to make your analysis by simply manipulating rows and columns. Once this section is complete, you may export your data and email it to the appropriate recipients, allowing you to utilize Excel as a reporting tool. Excel has evolved from an electronic version of the accounting worksheet to one of the most widely used Data Analysis Tools, allowing you to create pivot tables, manage a low volume of data, and experiment with the tabular form of analysis.
Qlik Sense
With features like augmented analytics for suggesting insights automatically and conversational analytics for natural language understanding, QlikSense is another top choice within organizations as it allows users to develop, extend and embed visual analytics in existing applications and portals. Embedded functionality is done within a common governance and security framework. Users can build and embed Qlik as simple mashups or integrate within applications, information services or IoT platforms.
There is no free basic version of QlikSense, but you can get a free trial period to get started. However, businesses can get started with QlikSense Business for $30/user/month or Qlik Sense Enterprise SaaS for heavy requirements.
TIBCO Spotfire
TIBCO Spotfire is a Data Analytics service that enables AI-powered data insights and natural language search. Its feature-rich visualization tool can relay information to both mobile and desktop applications. Spotfire also has tools for creating predictive analytics models that are quite easy to use.
A 30-day free Trial is available. TIBCO Spotfire Desktop starts at $650/year and TIBCO Spotfire Cloud costs $200/month.
With a wide range of options available in the market, organizations can quickly determine the best Data Analysis Tools based on their needs to start gaining insights for business growth. The free trial plan of different analytics tools providers further simplifies decision-making for organizations as they can explore for free before opting for a premium subscription.