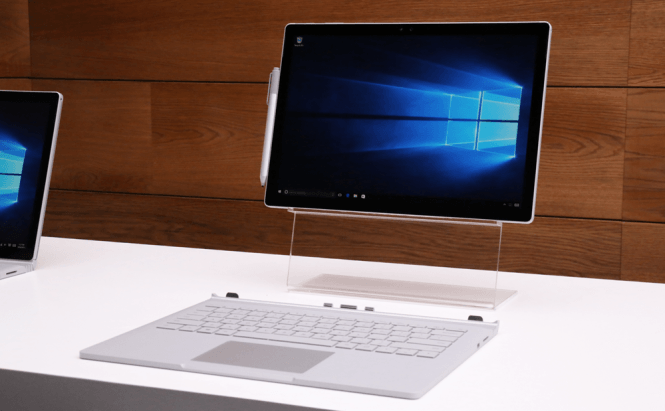 A look into Microsoft's Surface Book and Surface Pro 4
As you probably already know, yesterday Microsoft held a major event in which the company presented all its newest gadgets. Among many cool devices that we've seen, two of them that got most of attention were the Surface Book laptop and the Surface Pro 4 tablet which, as you will see, are pretty amazing, but since they're Microsoft products, they're also pretty expensive. Both devices will start shipping out on October 26, but if you want to, you can preorder them now.
The Surface Book is pretty cool to look at. This 13.5 inch laptop / notebook is very thin, features a detachable screen and (according to Microsoft) offers two times the performance of Apple's MacBook Pro. The product comes in 5 versions, each sporting different configurations. The cheapest one costs $1,500 and features an Intel i5 CPU, 8 GB of RAM and 128 GB of storage space while the most expensive model comes with an Intel i7, 16 GB of memory, 512 GB of disk space plus a discrete Nvidia GeForce GPU and costs $2,700.
The second device is the IT giant's newest tablet, which I feel is more than a match for Apple's latest iPad models. What's really cool about Surface Pro 4 is that for the first time you can actually choose individual hardware components, so you can stray away from the pre-packed options if they don't fit your needs. However, as I said before, you are going to need to bring your money bag with you as a tablet equipped with a Core i7 CPU, 16 GB of memory and 1 TB of storage space (the best options available) costs the jaw-dropping sum of $2,700. The cheapest version of the product which features a Intel Core m3, 4 GB of RAM and 128 GB of disk space is "a little" more affordable, costing $900. Additionally, the Surface Pro 4 is the thinnest and lightest Microsoft tablet yet, features a display of 12.3 inches with over 5 million pixels and embeds the latest generation of Skylake processors.