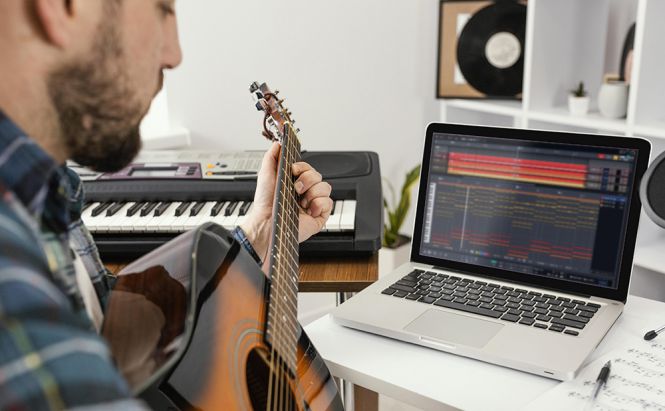 5 Best free programs to make music on your PC
Software made to create music on your computer doesn't have to be expensive. Naturally, premium versions of music-production programs boast more advanced functionality. However, there are plenty of options with no hefty price tags that you can use to compose quality music on your computer. We've rounded up five free music-production software tools we believe you should definitely take a look at.
Waveform Free
Waveform
Waveform Free is one of the best options when it comes to free music-production solutions. The software offers all necessary tools for recording and mixing a quality song. This free DAW can record audio and MIDI and comes with an audio mixer and effects. Furthermore, it can be enhanced with VST and AU plugins like synthesizers, samplers, or additional effects. You can customize your workflow as you like and select the parameters you want to be shown anywhere on the screen. You can upgrade to Waveform PRO, but it's not necessary, since all the essential tools for music creation are accessible in the free version.
PreSonus Studio One
Studio One
Besides offering a comprehensive professional version, Studio One has a free edition. Even though this free version comes with certain limitations, it is still a pretty capable option that provides a ton of helpful tools for new users. Using this DAW, you can record audio and perform simple mixing and mastering tasks. Even though there's no option to load VST plugins, you can still access a set of built-in audio effects that include reverb, delay, flanger, chorus, and some guitar-processing effects.
DarkWave Studio
Darkwave Studio
DarkWave Studio is an open-source digital audio workstation offering a ton of professional music editing features. The solution can be a fairly steep learning curve for a beginner, but once the skills are acquired it gets easier. DarkWave Studio is packed with multiple plugins and tools, such as a sequence editor, multitrack hard disk recorder, virtual studio, pattern editor, and many more. The program is pretty light on the system resourcing and overall can be a decent choice if you're looking for free music-production software.
AmpliTube Custom Shop
AmpliTube Custom Shop
AmpliTube Custom Shop is basically the stripped-down version of AmpliTube that comes packed with multiple models and effects, including a digital chromatic tuner, stompboxes, amps, cabs, mics and rack effects. AmpliTube Custom Shop offers a high level of virtualization, personalization, and flexibility. The solution is a fully capable guitar rig, however, the collection of amp models and cab sims might seem too basic, so you might want to buy extra options.
Audacity
Audacity
Audacity is an open-source audio editing and recording program that lets you record audio both in the studio and live mode. The solution is pretty easy to use and comes with a wide range of tools and effects like echo, reverb, noise reduction, and crossfade. Moreover, it can load VST plugins and has a spectrogram view mode to visualize frequencies. Audacity handles multitrack recordings and can capture several channels at the same time. One of its drawbacks is that it doesn't allow you to record MIDI notes directly. It is still a rather solid free option worth considering.
So here's our top pick of free music-production software packages. All of them come with the essential instruments and effects for music production and each of them is an excellent choice for composing almost anything.